The Cattle Raid of Cualnge
By

L. Winifred Faraday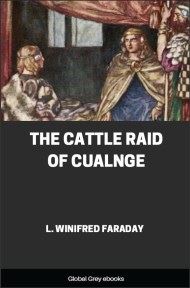 Format: Global Grey free PDF, epub, Kindle ebook
Pages (PDF): 142
Publication Date: 1904
(Download links are just below the donate button)
Book Description:
One of the masterpieces of Irish literature, this is a translation of a story cycle which lies at the core of the saga of Cuchulainn, the son of the God Lug and the daughter of the king of Ulster. Cuchulainn had the strength of Hercules, but was slow in gaining control over his powers, which turned him into a monster, leaving a trail of mayhem in his wake. At the age of seventeen, still beardless, Cuchulainn single-handedly repeals an invasion of Ulster by Queen Mebd of Connacht to steal the mythic bull Donn Cuailnge. Another translation of this story, The Cattle-Raid of Cooley by Joseph Dunn can be found here.
---
Reason to donate No 1: For every £1 donated, I will give one of my cats (chosen at random) a hug. Also, you are able to download this book (and all the others) without having to give me your email address. That has got to be worth something, right?
Donate with PayPal
Donate with your credit/debit card
Support the site using your PayPal account – or pay with your credit/debit card as a guest (no PayPal account needed).


Support the site using your credit/debit card via Donorbox, using the secure payment gateway, Stripe. (Donation box will open here in pop-up – no taking you away from the site).
---