Of the Nature of Things
Of the Nature of Things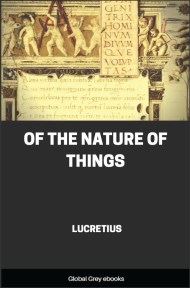 Format: Global Grey edition
Pages (PDF): 415
Publication Date: This translation by William Ellery Leonard, 1916
Illustrations: No
Available formats: Global Grey PDF
(Download link is just below book description)
Book Description:
De rerum natura (On the Nature of Things) is a first-century BC didactic poem by the Roman poet and philosopher Lucretius (c. 99 BC – c. 55 BC) with the goal of explaining Epicurean philosophy to a Roman audience. The poem, written in some 7,400 dactylic hexameters, is divided into six untitled books, and explores Epicurean physics through richly poetic language and metaphors.
---
It took me about 6 hours to make this book so you could download it within seconds.
However, please remember I am but one woman trying to make a living with this site. So I expect my customers to be customers and help me out a little. Or a lot. You get the drift. Pay me…please 😀
The recommended donation for this book is £3.99, but feel free to pay more or less (or more)
I will be converting this into epub and Kindle ebook soon, but if you want it done now, contact me and I'll do it as soon as possible.
---