Swords of Mars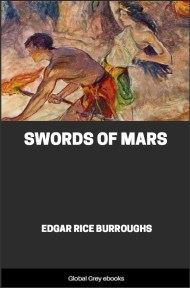 Series: Barsoom
Format: Global Grey edition
Pages (PDF): 246
Publication Date: 1936
Illustrations: No
Available formats: Global Grey PDF
(Download link is just below book description)
Book Description:
This is the eighth book in the Barsoom Series. John Carter reprises his role of hero as he vows to bring an end to the Assassins Guild. He ventures in disguise to the city of Zodanga in a fierce attempt to overthrow Ur Jan, the leader of the Assassins. His adventures embroil him in the rivalry of two competing scientist-inventors, and eventually leads him to the nearer Martian moon in order to rescue his kidnapped wife, Dejah Thoris. Interesting side note: The first letter of the preface and the subsequent twenty-four chapters of the book form an acrostic message from the author to his second wife Florence. The message reads "To Florence with all My Love Ed."
---
It took me about 3 hours to make this book so you could download it within seconds.
However, please remember I am but one woman trying to make a living with this site. So I expect my customers to be customers and help me out a little. Or a lot. You get the drift. Pay me…please 😀
The recommended donation for this book is £1.99, but feel free to pay more or less (or more)
Donate with PayPal
Donate with your credit/debit card
Support the site using your PayPal account – or pay with your credit/debit card as a guest (no PayPal account needed).


Support the site using your credit/debit card via Donorbox, using the secure payment gateway, Stripe. (Donation box will open here in pop-up – no taking you away from the site).
I will be converting this into epub and Kindle ebook soon, but if you want it done now, contact me and I'll do it as soon as possible.
---