Gerald Massey's Lectures
By

Gerald Massey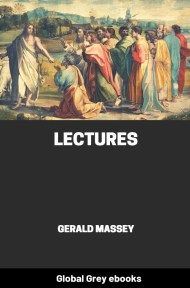 Format: Global Grey edition
Pages (PDF): 372
Illustrations: No
Available formats: PDF, epub, Kindle ebook
(Download links are just below the donate button)
Book Description:
Includes: The Historical Jesus and Mythical Christ; Paul the Gnostic Opponent of Peter; The "Logia of the Lord"; Gnostic and Historic Christianity; The Hebrew and Other Creations; In Reply to Professor A. H. Sayce; The Devil of Darkness in the Light of Evolution; Luniolatry, Ancient and Modern; Greek Mythology and the God Apollo; Man in Search of His Soul; The Seven Souls of Man; A Retort; and, The Coming Religion.
---
These books take me anywhere from 2 to 10 hours to create. Only a tiny minority of people donate (less than 1%), yet thousands of books are downloaded every day. There is no big company behind this site – it is just me, and I really need the support of my visitors to help keep this site running. So if you feel I have helped you by providing this ebook, please consider making a small donation payment of £1.00 or whatever you can.. Thanks – Julie 🙂
Donate with PayPal
Donate with your credit/debit card
Support the site using your PayPal account – or pay with your credit/debit card as a guest (no PayPal account needed).


Support the site using your credit/debit card via Donorbox, using the secure payment gateway, Stripe. (Donation box will open here in pop-up – no taking you away from the site).
---