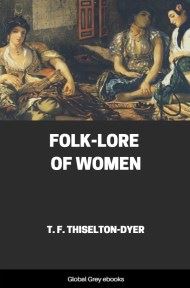 Folk-Lore of Women
Format: Global Grey free PDF, epub, Kindle ebook
Pages (PDF): 183
Publication Date: 1906
Download Links:
I run this site on my own and spend a lot of time (and money) creating these ebooks. Please support the site by buying a collection; like the Folk-Lore and Mythology one for only £10 or by making a small donation using the buttons below.
PDF
ePub
Kindle
Stripe(£GBP):
Summary:
A collection of traditions, superstitions, folk-tales and sayings, about women. Chapters include, Woman's Beauty, Woman's Tongue, Bad Women, Red-Haired Girls, Women As Wives, Woman's Characteristics, Woman's Fickleness, and Superstitions About Women.
More books you might like:
Excerpt:
It is only a woman that can make a man become the parody of himself.--French Proverb.

PROVERBIAL philosophy has long agreed that woman is a complex creature, little understood, and, according to Michelet, "she is a miracle of Divine contradictions;" an opinion endorsed by Pope, who in his "Moral Essays," writes, "Woman's at best a contradiction still;" and, further, by Richter, who says, "A woman is the most inconsistent compound of obstinacy and self-sacrifice that I am acquainted with." The wisest sages from the earliest period have been forced to admit that he would be a truly clever man who could understand, and account for, the many and varied characteristics of womankind, for, as Lord Byron wrote:--

"What a strange thing is man! And what a stranger
Is woman! What a whirlwind is her head!
And what a whirlpool, full of depth and danger,
Is all the rest about her! Whether wed
Or widow, maid or mother, she can change her
Mind like the wind; whatever she has said
Or done, is light to what she shall say or do--
The oldest thing on record, and yet new."

And yet it is universally acknowledged that woman is indispensable to man's happiness and well-being, for, as it is said in Germany, "Man without woman is head without body, woman without man is body without head," which corresponds with the French adage, "Without woman the two extremes of life would be without help, and the middle of it without pleasure;" and, long ago, the Egyptians were wont to represent a man without a woman by a single millstone, which cannot grind alone. The Burmese, too, of to-day maintain that "of all beings woman is most excellent; she is the chief of supporters;" and, according to another of their proverbial maxims, "her intelligence is four times that of man, her assiduity six times, and her desires eight times." Eastern proverbs are highly complementary to women; for whereas, says a Sanskrit adage, "they are instructed by nature, the learning of men is taught by books;" or, as another piece of Oriental wisdom reminds us, "Nature is woman's teacher, and she learns more sense than man, the pedant, gleams from books." And, in short, the power and influence of woman have been admirably described by Thomas Otway in his "Venice Preserved" (act i. sc. I):--

"O woman! lovely woman! Nature made thee
To temper man; we had been brutes without you.
Angels are painted fair to look like you"--

which is somewhat at variance with a popular Russian proverb to the effect that "the man is head of the woman, but she rules him by her temper;" and with the Spanish maxim, "A woman's counsel is not much, but he that despises it is a fool;" and again, with the Hindustani proverb, "Woman is wise when too late." But it would appear that, in summing up the characteristics of woman, proverbial lore, taken as a whole, is far more favourably disposed to her good points than the reverse, as is clearly the case with that of our French neighbours, who, long ago, have freely admitted the power of her influence in the world. Thus we are told that "women can do everything, because they rule those who command everything;" and "Women are the extreme, they are either better or worse than men;" and, again, it is said, "The world is the book of women"--Kashmiri proverb truly maintaining that "One woman is wealth to you, another ruination."

Woman has often been said to be equal to any emergency, a German saying expressing this idea thus: "Though an elephant and a tiger come she will leap over them;" and Hindustani lore waxes eloquent on this point--"What cannot a woman do? What cannot the ocean contain? What cannot the fire burn? What cannot death destroy?"

Most Oriental proverbs are much to the same effect, and it is said that "None know the wily tricks of a woman; they will kill their husbands, and then burn themselves," in order to prove their innocence; and again we are told, "Women's wills and thieves' tricks cannot be fathomed." And an old Welsh proverb warns us against the artifices of womankind, for--

"Nothing earthly hath a way
Like a woman to betray;"

and Hindustani lore tells us that "Womankind is perfidious;" and much to the same purport is the Assamese saying--

Of women, Miris, the parrot, and the crow,
The minds of these four you cannot know;"

for the Assamese never trust women; and not very complimentary is the Hindu saying, "My lady drops a spark in the chaff, and stands off to see the fun."
---
---
⇧ Back to top
---