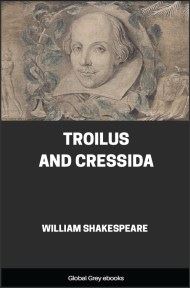 Troilus and Cressida
Format: Global Grey free PDF, epub, Kindle ebook
Pages (PDF): 190
Publication Date: 1602
Download Links:
I run this site on my own and spend a lot of time (and money) creating these ebooks. Please support the site by buying a collection; like the Shakespeare one for only £2.50 or by making a small donation using the buttons below.
PDF
ePub
Kindle
Stripe(£GBP):
Summary:
Troilus and Cressida is a tragedy, described as one of Shakespeare's problem plays. The play ends on a very bleak note with the death of the noble Trojan Hector and destruction of the love between Troilus and Cressida. Throughout the play, the tone lurches wildly between bawdy comedy and tragic gloom.
More books you might like:
Excerpt:
Troy. Before Priam's palace.

Enter TROILUS armed, and PANDARUS

TROILUS
Call here my varlet; I'll unarm again:
Why should I war without the walls of Troy,
That find such cruel battle here within?
Each Trojan that is master of his heart,
Let him to field; Troilus, alas! hath none.

PANDARUS
Will this gear ne'er be mended?

TROILUS
The Greeks are strong and skilful to their strength,
Fierce to their skill and to their fierceness valiant;
But I am weaker than a woman's tear,
Tamer than sleep, fonder than ignorance,
Less valiant than the virgin in the night
And skilless as unpractised infancy.

PANDARUS
Well, I have told you enough of this: for my part,
I'll not meddle nor make no further. He that will
have a cake out of the wheat must needs tarry the grinding.

TROILUS
Have I not tarried?

PANDARUS
Ay, the grinding; but you must tarry
the bolting.

TROILUS
Have I not tarried?

PANDARUS
Ay, the bolting, but you must tarry the leavening.

TROILUS
Still have I tarried.

PANDARUS
Ay, to the leavening; but here's yet in the word
'hereafter' the kneading, the making of the cake, the
heating of the oven and the baking; nay, you must
stay the cooling too, or you may chance to burn your lips.

TROILUS
Patience herself, what goddess e'er she be,
Doth lesser blench at sufferance than I do.
At Priam's royal table do I sit;
And when fair Cressid comes into my thoughts,--
So, traitor! 'When she comes!' When is she thence?

PANDARUS
Well, she looked yesternight fairer than ever I saw
her look, or any woman else.
---
---
⇧ Back to top
---