---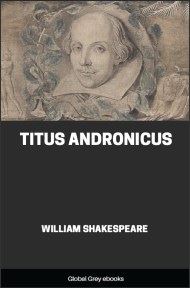 Format: Global Grey free PDF, epub, Kindle ebook
Pages (PDF): 126
Publication Date: 1593
Download links are below the donate buttons
Donate with PayPal (using either a Paypal account or credit/debit card).
Donate via Donorbox using the secure payment gateway Stripe (with credit/debit card)
Donate
Summary:
Titus Andronicus is a tragedy by William Shakespeare, and possibly George Peele, believed to have been written between 1588 and 1593. It is thought to be Shakespeare's first tragedy, and is often seen as his attempt to emulate the violent and bloody revenge plays of his contemporaries, which were extremely popular with audiences throughout the sixteenth century. The play is set during the latter days of the Roman Empire and tells the fictional story of Titus, a general in the Roman army, who is engaged in a cycle of revenge with Tamora, Queen of the Goths. It is Shakespeare's bloodiest and most violent work and traditionally was one of his least respected plays.
---
---
More books you might like:
Excerpt:
Rome. Before the Capitol.

The Tomb of the ANDRONICI appearing; the Tribunes and Senators aloft. Enter, below, from one side, SATURNINUS and his Followers; and, from the other side, BASSIANUS and his Followers; with drum and colours

SATURNINUS
Noble patricians, patrons of my right,
Defend the justice of my cause with arms,
And, countrymen, my loving followers,
Plead my successive title with your swords:
I am his first-born son, that was the last
That wore the imperial diadem of Rome;
Then let my father's honours live in me,
Nor wrong mine age with this indignity.

BASSIANUS
Romans, friends, followers, favorers of my right,
If ever Bassianus, Caesar's son,
Were gracious in the eyes of royal Rome,
Keep then this passage to the Capitol
And suffer not dishonour to approach
The imperial seat, to virtue consecrate,
To justice, continence and nobility;
But let desert in pure election shine,
And, Romans, fight for freedom in your choice.

Enter MARCUS ANDRONICUS, aloft, with the crown

MARCUS ANDRONICUS
Princes, that strive by factions and by friends
Ambitiously for rule and empery,
Know that the people of Rome, for whom we stand
A special party, have, by common voice,
In election for the Roman empery,
Chosen Andronicus, surnamed Pius
For many good and great deserts to Rome:
A nobler man, a braver warrior,
Lives not this day within the city walls:
He by the senate is accit'd home
From weary wars against the barbarous Goths;
That, with his sons, a terror to our foes,
Hath yoked a nation strong, train'd up in arms.
Ten years are spent since first he undertook
This cause of Rome and chastised with arms
Our enemies' pride: five times he hath return'd
Bleeding to Rome, bearing his valiant sons
In coffins from the field;
And now at last, laden with horror's spoils,
Returns the good Andronicus to Rome,
Renowned Titus, flourishing in arms.
Let us entreat, by honour of his name,
Whom worthily you would have now succeed.
And in the Capitol and senate's right,
Whom you pretend to honour and adore,
That you withdraw you and abate your strength;
Dismiss your followers and, as suitors should,
Plead your deserts in peace and humbleness.

SATURNINUS
How fair the tribune speaks to calm my thoughts!

BASSIANUS
Marcus Andronicus, so I do ally
In thy uprightness and integrity,
And so I love and honour thee and thine,
Thy noble brother Titus and his sons,