A Tour Through The Whole Island of Great Britain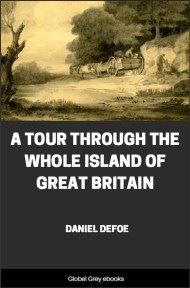 Format: Global Grey edition
Pages (PDF): 874
Publication Date: 1724 – 1727
Illustrations: No
Available formats: PDF, epub, Kindle ebook
(Download links are just below the donate button)
Book Description:
A tour thro' the whole island of Great Britain is an account of his travels by English author Daniel Defoe, first published in three volumes between 1724 and 1727. It is roughly divided into several tours, or circuits, around Britain. Volume 1 contains three letters. The first two, Through Essex, Colchester, Harwich, Suffolk, Norfolk, and Cambridgeshire, and through Kent Coast, Maidstone, Canterbury, Sussex, Hampshire, and Surrey, are complete circuits, both beginning and ending in London. Letter 3 describes a journey out to Land's End, while Letter 4 starts Volume 2 with the journey back. Letter 5 focuses on London and the Court. Volume 2 ends with Letters 6 and 7 describing a path out to Anglesey and back. Finally, in Volume 3, the narrator begins at the Trent or the Mersey and slowly travels northwards from the Midlands, taking up Letters 8 through 10. Finally, Scotland is divided into three convenient units for Letters 11 through 13.
---
It took me about 7 hours to make this book so you could download it within seconds.
However, please remember I am but one woman trying to make a living with this site. So I expect my customers to be customers and help me out a little. Or a lot. You get the drift. Pay me…please 😀
The recommended donation for this book is £3.99.
Donate with PayPal
Donate with your credit/debit card
Support the site using your PayPal account – or pay with your credit/debit card as a guest (no PayPal account needed).


Support the site using your credit/debit card via Donorbox, using the secure payment gateway, Stripe. (Donation box will open here in pop-up – no taking you away from the site).
---