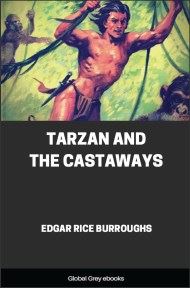 Tarzan and the Castaways
Format: Global Grey free PDF, epub, Kindle ebook
Series: Tarzan
Pages (PDF): 191
Publication Date: 1965
Download Links:
I run this site (and create these ebooks) by myself. Please help out by making a small payment donation of £1, or whatever you can, for this book. It only takes a minute and you don't need a PayPal account.
PDF
ePub
Kindle
Stripe(£GBP):
Summary:
This is the twenty-fourth and last book in the Tarzan Series. In addition to the title novella, it includes two Tarzan short stories; Tarzan and the Champion, and, Tarzan and the Jungle Murders. Of the three pieces, "Tarzan and the Jungle Murders", was written first, in January 1939. It was first published in the magazine Thrilling Adventures in the issue for June 1940. "Tarzan and the Champion" was written in July 1939, and first published in Blue Book Magazine in the issue for April 1940. "Tarzan and the Castaways" was begun in November 1940 and first published in the magazine Argosy Weekly as a three-part serial in the issues for August 23, August 30, and September 6, 1941.
More books you might like:
Excerpt:
"SIX—seven—eight—nine—ten!" The referee stepped to a neutral corner and hoisted Mullargan's right hand. "The win-nah and new champion!" he shouted.

For a moment the audience, which only partially filled Madison Square Garden, sat in stunned and stupefied silence; then there was a burst of applause, intermingled with which was an almost equal volume of boos. It wasn't that the booers questioned the correctness of the decision—they just didn't like Mullargan, a notoriously dirty fighter. Doubtless, too, many of them had had their dough on the champion.

Joey Marks, Mullargan's manager, and the other man who had been in his corner crawled through the ropes and slapped Mullargan on the back; photographers, sportswriters, police, and a part of the audience converged on the ring; jittery news-commentators bawled the epochal tidings to a waiting world.

The former champion, revived but a bit wobbly, crossed the ring and proffered a congratulatory hand to Mullargan. The new champion did not take the hand. "G'wan, you bum," he said, and turned his back.

"One-Punch" Mullargan had come a long way in a little more than a year—from amateur to preliminary fighter, to Heavyweight Champion of the World; and he had earned his sobriquet. He had, in truth, but one punch; and he needed but that one—a lethal right to the button. Sometimes he had had to wait several rounds before he found an opening, but eventually he had always found it. The former champion, a ten-to-one favorite at ringside, had gone down in the third round. Since then, One-Punch Mullargan had fought but nine rounds; yet he had successfully defended his championship six times, leaving three men with broken jaws and one with a fractured skull. After all, who wishes his skull fractured?

So One-Punch Mullargan decided to take a vacation and do something he always had wanted to do but which fate had always heretofore intervened to prevent. Several years before, he had seen a poster which read, "Join the navy and see the world;" he had always remembered that poster; and now, with a vacation on his hands, Mullargan decided to go and see the world for himself, without any assistance from Navy or Marines.

"I ain't never seen Niag'ra Falls," said his manager. "That would be a nice place to go for a vacation. If we was to go there, that would give Niag'ra Falls a lot of publicity too." "Niag'ra Falls, my foot!" said Mullargan. "We're goin' to Africa."

"Africa," mused Mr. Marks. "That's a hell of a long ways off—down in South America somewheres. Wot you wanna go there for?"

"Huntin'. You see them heads in that guy's house what we were at after the fight the other night, didn't you? Lions, buffaloes, elephants. Gee! That must be some sport."

"We ain't lost no lions, kid," said Marks. There was a note of pleading in his voice. "Listen, kid: stick around here for a couple more fights; then you'll have enough potatoes to retire on, and you can go to Africa or any place you want to—but not me."

"I'm goin' to Africa, and you're goin' with me. If you want to get some publicity out of it, you better call up them newspaper bums."

Sports-writers and camera-men milled about the champion on the deck of the ship ten days later. Bulbs flashed; shutters clicked; reporters shot questions; passengers crowded closer with craning necks; a girl elbowed her way through the throng with an autograph album.

"When did he learn to write?" demanded a Daily News man.

"Wise guy," growled Mullargan.

"Give my love to Tarzan when you get to Africa," said another.

"And don't get fresh with him, or he'll take you apart," interjected the Daily News man.

"I seen that bum in pitchers," said Mullargan. "He couldn't take nobody apart."

"I'll lay you ten to one he could K.O. you in the first round," taunted the Daily News man.

"You ain't got ten, you bum," retorted the champion.

A heavily laden truck lumbered along the edge of a vast plain under the guns of the forest which had halted here, sending out a scattering of pickets to reconnoiter the terrain held by the enemy. Why the tree army never advanced, why the plain always held its own—these are mysteries.

And the lorry was a mystery to the man far out on the plain, who watched its slow advance. He knew that there were no tracks there, that perhaps since creation this was the first wheeled vehicle that had ever passed this way.

A white man in a disreputable sun-helmet drove the truck; beside him sat a black man; sprawled on top of the load were several other blacks. The lengthening shadow of the forest stretched far beyond the crawling anachronism, marking the approach of the brief equatorial twilight.

The man out upon the plain set his course so that he might meet the truck. He moved with an easy, sinuous stride that was almost catlike in its smoothness. He wore no clothes other than a loin-cloth; his weapons were primitive: a quiver of arrows and a bow at his back, a hunting-knife in a rude scabbard at his hip, a short, stout spear that he carried in his hand. Looped across one shoulder and beneath the opposite arm was a coil of grass rope. The man was very dark, but he was not a Negro. A lifetime beneath the African sun accounted for his bronzed skin.

Upon his shoulder squatted a little monkey, one arm around the bronzed neck. "Tarmangani, Nkima," said the man, looking in the direction of the truck.
---
---
⇧ Back to top
---