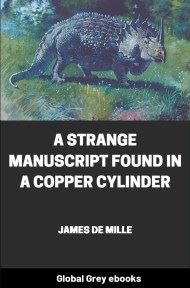 A Strange Manuscript Found in a Copper Cylinder
James De Mille
Format: Global Grey free PDF, epub, Kindle ebook, or read online
Pages (PDF): 237
Publication Date: 1888
Download Links (below donate buttons):
Stripe:
---
PDF
ePub
Kindle
Online
Summary:
A posthumous publication, A Strange Manuscript Found in a Copper Cylinder, was one of the first 'Lost World' type science-fiction novels. However, because it wasn't published immeidately, by the time it was, other authors (such as H. Rider Haggard) had used this genre, and so it was seen as a bit cliched. It tells the story of Adam More, a sailor who, upon being shipwrecked, goes down a mysterious underground passage, only to discover a hidden world with an ancient civilisation. The manuscript in the title is written by More, and refers to the secondary plot which forms a frame for the central narrative, of some yachtsmen who find it sealed in a copper cylinder.
More free ebooks:
Excerpt:
It occurred as far back as February 15, 1850. It happened on that day that the yacht Falcon lay becalmed upon the ocean between the Canaries and the Madeira Islands. This yacht Falcon was the property of Lord Featherstone, who, being weary of life in England, had taken a few congenial friends for a winter's cruise in these southern latitudes. They had visited the Azores, the Canaries, and the Madeira Islands, and were now on their way to the Mediterranean.

The wind had failed, a deep calm had succeeded, and everywhere, as far as the eye could reach, the water was smooth and glassy. The yacht rose and fell at the impulse of the long ocean undulations, and the creaking of the spars sounded out a lazy accompaniment to the motion of the vessel. All around was a watery horizon, except in the one place only, toward the south, where far in the distance the Peak of Teneriffe rose into the air.

The profound calm, the warm atmosphere, the slow pitching of the yacht, and the dull creaking of the spars all combined to lull into a state of indolent repose the people on board. Forward were the crew; some asleep, others smoking, others playing cards. At the stern were Oxenden, the intimate friend of Featherstone, and Dr. Congreve, who had come in the double capacity of friend and medical attendant. These two, like the crew, were in a state of dull and languid repose. Suspended between the two masts, in an Indian hammock, lay Featherstone, with a cigar in his mouth and a novel in his hand, which he was pretending to read. The fourth member of the party, Melick, was seated near the mainmast, folding some papers in a peculiar way. His occupation at length attracted the roving eyes of Featherstone, who poked forth his head from his hammock, and said in a sleepy voice:

"I say, Melick, you're the most energetic fellah I ever saw. By Jove! you're the only one aboard that's busy. What are you doing?"

"Paper boats," said Melick, in a business-like tone.

"Paper boats! By Jove!" said Featherstone. "What for?"

"I'm going to have a regatta," said Melick. "Anything to kill time, you know."

"By Jove!" exclaimed Featherstone again, raising himself higher in his hammock, "that's not a bad idea. A wegatta! By Jove! glowious! glowious! I say, Oxenden, did you hear that?"

"What do you mean by a regatta?" asked Oxenden, lazily.

"Oh, I mean a race with these paper boats. We can bet on them, you know."

At this Featherstone sat upright, with his legs dangling out of the hammock.

"By Jove!" he exclaimed again. "Betting! So we can. Do you know, Melick, old chap, I think that's a wegular piece of inspiration. A wegatta! and we can bet on the best boat."

"But there isn't any wind," said Oxenden.

"Well, you know, that's the fun of it," said Melick, who went solemnly on as he spoke, folding his paper boats; "that's the fun of it. For you see if there was a wind we should be going on ourselves, and the regatta couldn't come off; but, as it is, the water is just right. You pick out your boat, and lay your bet on her to race to some given point."

"A given point? But how can we find any?"

"Oh, easily enough; something or anything—a bubble'll do, or we can pitch out a bit of wood."

Upon this Featherstone descended from his perch, and came near to examine the proceedings, while the other two, eager to take advantage of the new excitement, soon joined him. By this time Melick had finished his paper boats. There were four of them, and they were made of different colors, namely, red, green, yellow, and white.

"I'll put these in the water," said Melick, "and then we can lay our bets on them as we choose. But first let us see if there is anything that can be taken as a point of arrival. If there isn't anything, I can pitch out a bit of wood, in any direction which may seem best."
---
---
⇧ Back to top
---