The Scarlet Pimpernel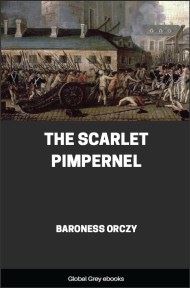 Format: Global Grey edition
Pages (PDF): 257
Publication Date: 1905
Illustrations: No
Available formats: Global Grey PDF
(Download link is just below book description)
Book Description:
The Scarlet Pimpernel is the first novel in a series of historical fiction by Baroness Orczy set during the Reign of Terror following the start of the French Revolution. Marguerite St. Just, a beautiful French actress, is the wife of wealthy English fop Sir Percy Blakeney, a baronet. Before their marriage, Marguerite took revenge upon the Marquis de St. Cyr, who had ordered her brother to be beaten for his romantic interest in the Marquis' daughter, with the unintended consequence of the Marquis and his sons being sent to the guillotine. When Percy found out, he became estranged from his wife. Marguerite, for her part, became disillusioned with Percy's shallow, dandyish lifestyle. Meanwhile, the "League of the Scarlet Pimpernel", a secret society of twenty English aristocrats, "one to command, and nineteen to obey", is engaged in rescuing their French counterparts from the daily executions of the Reign of Terror. Their leader, the mysterious Scarlet Pimpernel, takes his nickname from the small red flower he draws on his messages. Despite being the talk of London society, only his followers and possibly the Prince of Wales know the Pimpernel's true identity.
---
It took me about 3 hours to make this book so you could download it within seconds.
However, please remember I am but one woman trying to make a living with this site. So I expect my customers to be customers and help me out a little. Or a lot. You get the drift. Pay me…please 😀
The recommended donation for this book is £1.99, but feel free to pay more or less (or more)
Donate with PayPal
Donate with your credit/debit card
Support the site using your PayPal account – or pay with your credit/debit card as a guest (no PayPal account needed).


Support the site using your credit/debit card via Donorbox, using the secure payment gateway, Stripe. (Donation box will open here in pop-up – no taking you away from the site).
I will be converting this into epub and Kindle ebook soon, but if you want it done now, contact me and I'll do it as soon as possible.
---