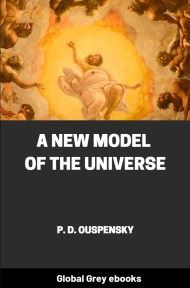 A New Model of the Universe
Format: Global Grey free PDF, epub, Kindle ebook, or read online
Pages (PDF): 664
Publication Date: This translation by R. R. Merton, 1934
Download Links:
I run this site on my own and spend a lot of time (and money) creating these ebooks. Please support the site by buying a collection; like the Occult one for only £7 or by making a small donation using the buttons below.
PDF
ePub
Kindle
Online
Stripe(£GBP):
Summary:
Chapters include: Esotericism And Modern Thought; The Fourth Dimension; Superman; Christianity And The New Testament; The Symbolism Of The Tarot; What Is Yoga?; On The Study Of Dreams And On Hypnotism; Experimental Mysticism; In Search Of The Miraculous; A New Model Of The Universe; Eternal Recurrence And The Laws Of Manu; and, Sex And Evolution.
More books you might like:
Excerpt:
THE idea of a knowledge which surpasses all ordinary human knowledge, and is inaccessible to ordinary people, but which exists somewhere and belongs to somebody, permeates the whole history of the thought of mankind from the most remote periods. And according to certain memorials of the past, a knowledge quite different from ours formed the essence and content of human thought at those times when, according to other opinions, man differed very little, or did not differ at all, from animals.

" Hidden knowledge " is therefore sometimes called " ancient knowledge". But of course this does not explain anything. It must, however, be noted that all religions, all myths, all beliefs, all popular heroic legends of all peoples and all countries are based on the recognition of the existence sometime and somewhere of a knowledge far superior to the knowledge which we possess or can possess. And to a considerable degree the content of all religions and myths consists of symbolic forms which represent attempts to transmit the idea of this hidden knowledge.

On the other hand, nothing demonstrates so clearly the weakness of human thought or human imagination as existing ideas as to the content of hidden knowledge. The word, the concept, the idea, the expectation, exist, but there are no definite concrete forms of percept connected with this idea. And the idea itself has very often to be dug out with great difficulty from beneath mountains of lies, both intentional and unintentional, from deception and self-deception and from naive attempts to present in intelligible forms adopted from ordinary life that which in its very nature can have no resemblance to them.

The work of finding traces of ancient or hidden knowledge, or even hints of its existence, resembles the work of archaeologists looking for traces of some ancient forgotten civilisation, and finding them buried beneath several strata of cemeteries left by peoples who have since lived in that place, separated possibly by thousands of years and unaware of one another's existence.

But on every occasion that an investigator comes upon the attempts to express in one way or another the content of hidden knowledge he invariably sees the same thing, namely, the striking poverty of human imagination in the face of this idea.

Humanity in the face of the idea of hidden knowledge reminds one of people in fairy-tales who are promised, by some goddess, fairy or magician, that they will be given whatever they want on condition that they say exactly what they want. And usually in fairytales people do not know what to ask for. In some cases the fairy or magician offers to grant as many as three wishes, but even this is of no use. In all fairy-tales of all periods and peoples, men become hopelessly lost when confronted with the question of what they want, and what they would like to have. They are quite unable to determine and formulate their wish. Either at that minute they remember only some small unimportant desire, or they express several contradictory wishes, which cancel one another; or else, as in the fairy-tale of 'The Fisherman and the Fish' they are not able to keep within the bounds of possible things and, always wishing for more and more, they end by attempting to subjugate higher forces, not being conscious of the poverty of their own powers and capacities. And so again they fall, again they lose all that they have acquired, because they themselves do not clearly know what they want.

In a jocular form this idea of the difficulty of formulating desires and of men's rare success in it is set forth in an Indian tale:

A beggar, who was born blind, led a single life, and lived upon the charity of his neighbours, was long and incessantly assailing a particular deity with his prayers. The latter was at last moved by this continual devotion, but fearing that his votary might not be easily satisfied, took care to bind him by an oath to ask for no more than a single blessing. It puzzled the beggar for a long while, but his professional ingenuity at last came to his aid.

" I hasten to obey the behest, generous Lord! " quoth he, " and this solitary boon is all I ask at thy hands, namely, that I should live to see the grand-child of my grand-child playing in a seven-storied palace and helped by a train of attendants to his meal of milk and rice, out of a golden cup." And he concluded by expressing his hope that he had not exceeded the limit of a single wish vouchsafed to him.

The deity saw that he had been fairly done, for though single in form, the boon asked for comprised the manifold blessings of health, wealth, long life, restoration of sight, marriage and progeny. For very admiration of his devotee's astuteness and consummate tact, if not in fulfilment of his plighted word, the deity felt bound to grant him all he asked for.

In the legend of Solomon (I Kings, 3, 5-15) we find an explanation of these tales, an explanation of what it is that men can receive if they only know what to wish for. In Gibeon the Lord appeared to Solomon in a dream by night; and God said. Ask what I shall give thee.
---
---
⇧ Back to top
---