How to Live on 24 Hours a Day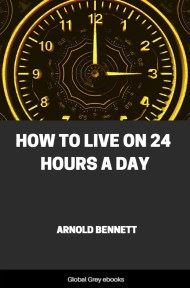 Format: Global Grey edition
Pages (PDF): 40
Publication Date: 1910
Illustrations: No
Available formats: PDF, epub, Kindle ebook
(Download links are just below the donate button)
Book Description:
In this book, Bennett tackles the problem of workers the world over, who spend most of their lives working jobs they hate and don't find time to do anythign else, other than sleep and eat. He urges these "salarymen" to seize their extra time, and make the most of it to improve themselves. Extra time could be found at the beginning of the day, by waking up early, and on the ride to work, on the way home from work, in the evening hours, and especially during the weekends. During this time, he prescribed improvement measures such as reading great literature, taking an interest in the arts, reflecting on life, and learning self-discipline. Bennett wrote that time is the most precious of commodities. He said that many books have been written on how to live on a certain amount of money each day. And he added that the old adage "time is money" understates the matter, as time can often produce money, but money cannot produce more time. Time is extremely limited, and Bennett urged others to make the best of the time remaining in their lives.
---
Donate with PayPal
Donate with your credit/debit card
Support the site using your PayPal account – or pay with your credit/debit card as a guest (no PayPal account needed).


Support the site using your credit/debit card via Donorbox, using the secure payment gateway, Stripe. (Donation box will open here in pop-up – no taking you away from the site).
---