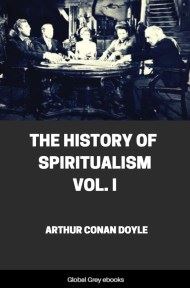 The History of Spiritualism, Vol. I
Format: Global Grey free PDF, epub, Kindle ebook
Pages (PDF): 256
Publication Date: 1926
Download Links (below donate buttons):
Stripe:
---
PDF
ePub
Kindle
Summary:
Chapters include: The Story of Swedenborg; Edward Irving: The Shakers; The Prophet of the New Revelation; The Hydesville Episode; The Career of the Fox Sisters; First Developments in America; The Dawn in England; Continued Progress in England; The Career of D.D. Home; The Davenport Brothers; The Researches of Sir William Crookes (1870-1874); The Eddy Brothers and the Holmeses; Henry Slade And Dr. Monck; and, Collective Investigations Of Spiritualism. Fun fact: Arthur Conan Doyle used to be friends with Houdini and was convinced that Houdini was actually a magician, like, with real magical powers. Houdini explained to him that it's all about illusions, trickery, etc, but Doyle was having none of it. Eventually, this was the cause of the end of their friendship.
More free ebooks:
Excerpt:
IT is impossible to give any date for the early appearances of external intelligent power of a higher or lower type impinging upon the affairs of men. Spiritualists are in the habit of taking March 31, 1848, as the beginning of all psychic things, because their own movement dates from that day. There has, however, been no time in the recorded history of the world when we do not find traces of preternatural interference and a tardy recognition of them from humanity. The only difference between these episodes and the modern movement is that the former might be described as a case of stray wanderers from some further sphere, while the latter bears the sign of a purposeful and organized invasion. But as an invasion might well be preceded by the appearance of pioneers who search out the land, so the spirit influx of recent years was heralded by a number of incidents which might well be traced to the Middle Ages or beyond them. Some term must be fixed for a commencement of the narrative, and perhaps no better one can be found than the story of the great Swedish seer, Emanuel Swedenborg, who has some claim to be the father of our new knowledge of supernal matters.

When the first rays of the rising sun of spiritual knowledge fell upon the earth they illuminated the greatest and highest human mind before they shed their light on lesser men. That mountain peak of mentality was this great religious reformer and clairvoyant medium, as little understood by his own followers as ever the Christ has been.

In order fully to understand Swedenborg one would need to have a Swedenborg brain, and that is not met with once in a century. And yet by our power of comparison and our experience of facts of which Swedenborg knew nothing, we can realize some part of his life more clearly than he could himself. The object of this study is not to treat the man as a whole, but to endeavour to place him in the general scheme of psychic unfolding treated in this work, from which his own Church in its narrowness would withhold him.

Swedenborg was a contradiction in some ways to our psychic generalizations, for it has been the habit to say that great intellect stands in the way of personal psychic experience. The clean slate is certainly most apt for the writing of a message. Swedenborg's mind was no clean slate, but was criss-crossed with every kind of exact learning which mankind is capable of acquiring. Never was there such a concentration of information. He was primarily a great mining engineer and authority on metallurgy. He was a military engineer who helped to turn the fortunes of one of the many campaigns of Charles XII of Sweden. He was a great authority upon astronomy and physics, the author of learned works upon the tides and the determination of latitude. He was a zoologist and an anatomist. He was a financier and political economist who anticipated the conclusions of Adam Smith. Finally, he was a profound Biblical student who had sucked in theology with his mother's milk, and lived in the stern Evangelical atmosphere of a Lutheran pastor during the most impressionable years of his life. His psychic development, which occurred when he was fifty-five, in no way interfered with his mental activity, and several of his scientific pamphlets were published after that date.

With such a mind it is natural enough that he should be struck by the evidence for extra-mundane powers which comes in the way of every thoughtful man, but what is not natural is that he should himself be the medium for such powers. There is a sense in which his mentality was actually detrimental and vitiated his results, and there was another in which it was to the highest degree useful. To illustrate this one has to consider the two categories into which his work may be divided.

The first is the theological. This seems to most people outside the chosen flock a useless and perilous side of his work. On the one hand he accepts the Bible as being in a very particular sense the work of God. Upon the other he contends that its true meaning is entirely different from its obvious meaning, and that it is he, and only he, who, by the help of angels, is able to give the true meaning. Such a claim is intolerable. The infallibility of the Pope would be a trifle compared with the infallibility of Swedenborg if such a position were admitted. The Pope is at least only infallible when giving his verdict on points of doctrine ex cathedra with his cardinals around him. Swedenborg's infallibility would be universal and un restricted. Nor do his explanations in the least commend themselves to one's reason. When, in order to get at the true sense of a God-given message, one has to suppose that a horse signifies intellectual truth, an ass signifies scientific truth, a flame signifies improvement, and so on and on through countless symbols, we seem to be in a realm of make-believe which can only be compared with the ciphers which some ingenious critics have detected in the plays of Shakespeare. Not thus does God send His truth into the world. If such a view were accepted the Swedenborgian creed could only be the mother of a thousand heresies, and we should find ourselves back again amid the hair-splittings and the syllogisms of the mediaeval schoolmen. All great and true things are simple and intelligible. Swedenborg's theology is neither simple nor intelligible, and that is its condemnation.

When, however, we get behind his tiresome exegesis of the Scriptures, where everything means something different from what it obviously means, and when we get at some of the general results of his teaching, they are not inharmonious with liberal modern thought or with the teaching which has been received from the Other Side since spiritual communication became open. Thus the general proposition that this world is a laboratory of souls, a forcing-ground where the material refines out the spiritual, is not to be disputed. He rejects the Trinity in its ordinary sense, but rebuilds it in some extraordinary sense which would be equally objectionable to a Unitarian. He admits that every system has its divine purpose and that virtue is not confined to Christianity. He agrees with the Spiritualist teaching in seeking the true meaning of Christ's life in its power as an example, and he rejects atonement and original sin. He sees the root of all evil in selfishness, yet he admits that a healthy egoism, as Hegel called it, is essential. In sexual matters his theories are liberal to the verge of laxity. A Church he considered an absolute necessity, as if no individual could arrange his own dealings with his Creator. Altogether, it is such a jumble of ideas, poured forth at such length in so many great Latin volumes, and expressed in so obscure a style, that every independent interpreter of it would be liable to found a new religion of his own. Not in that direction does the worth of Swedenborg lie.
---
---
⇧ Back to top
---