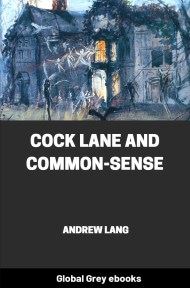 Cock Lane and Common-Sense
Format: Global Grey free PDF, epub, Kindle ebook
Pages (PDF): 245
Publication Date: 1894
Download Links:
I run this site (and create these ebooks) by myself. Please help out by making a small payment donation of £1, or whatever you can, for this book. It only takes a minute and you don't need a PayPal account.
PDF
ePub
Kindle
Stripe(£GBP):
Summary:
Cock Lane and Common-Sense delves into the world of the paranormal, spiritualism, and the occult, in an academic and scholarly way. Andrew Lang was one of the founders of 'psychical research' in the late 19th century, and in 1911, became the president of the Society for Psychical Research. In this book, he takes us through everything from savage spiritualism, animistic beliefs, ancient and modern spiritualism, ghosts, leviatation, witch-craft, haunted houses, and many more subjects pertaining to the paranormal.
More books you might like:
Excerpt:
Since the first publication of Cock Lane and Common-Sense in 1894, nothing has occurred to alter greatly the author's opinions. He has tried to make the Folklore Society see that such things as modern reports of wraiths, ghosts, 'fire-walking,' 'corpse-lights,' 'crystal-gazing,' and so on, are within their province, and within the province of anthropology. In this attempt he has not quite succeeded. As he understands the situation, folklorists and anthropologists will hear gladly about wraiths, ghosts, corpse-candles, hauntings, crystal-gazing, and walking unharmed through fire, as long as these things are part of vague rural tradition, or of savage belief.

But, as soon as there is first-hand evidence of honourable men and women for the apparent existence of any of the phenomena enumerated, then Folklore officially refuses to have anything to do with the subject. Folklore will register and compare vague savage or popular beliefs; but when educated living persons vouch for phenomena which (if truly stated) account in part for the origin of these popular or savage beliefs, then Folklore turns a deaf ear. The logic of this attitude does not commend itself to the author of Cock Lane and Common-Sense. On the other side, the Society for Psychical Research, while anxiously examining all the modern instances which Folklore rejects, has hitherto neglected, on the whole, that evidence from history, tradition, savage superstition, saintly legend, and so forth, which Folklore deigns to regard with interest. The neglect is not universal, and the historical aspect of these beliefs has been dealt with by Mr. Gurney (on Witchcraft), by Mr. Myers (on the Classical Oracles), and by Miss X. (on Crystal-Gazing). Still, the savage and traditional evidence is nearly as much eschewed by psychical research, as the living and contemporary evidence is by Folklore. The truth is that anthropology and Folklore have a ready-made theory as to the savage and illusory origin of all belief in the spiritual, from ghosts to God. The reported occurrence, therefore, of phenomena which suggest the possible existence of causes of belief not accepted by anthropology, is a distasteful thing, and is avoided. On the other hand, psychical research averts its gaze, as a rule, from tradition, because the testimony of tradition is not 'evidential,' not at first hand.

In Cock Lane and Common-Sense an attempt is made to reconcile these rather hostile sisters in science. Anthropology ought to think humani nihil a se alienum. Now the abnormal and more or less inexplicable experiences vouched for by countless living persons of honour and sanity, are, at all events, human. As they usually coincide in character with the testimony of the lower races all over the world; with historical evidence from the past, and with rural Folklore now and always, it really seems hard to understand how anthropology can turn her back on this large human province. For example, the famous affair of the disturbances at Mr. Samuel Wesley's parsonage at Epworth, in 1716, is reported on evidence undeniably honest, and absolutely contemporary. Dr. Salmon, the learned and acute Provost of Trinity College, Dublin, has twice tried to explain the phenomena as the results of deliberate imposture by Hetty Wesley, alone, and unaided. The present writer examined Dr. Salmon's arguments (in the Contemporary Review, August, 1895), and was able, he thinks, to demonstrate that scarcely one of them was based on an accurate reading of the evidence. The writer later came across the diary of Mr. Proctor of Wellington, near Newcastle (about 1840), and found to his surprise that Mr. Proctor registered on occasion, day by day, for many years, precisely the same phenomena as those which had vexed the Wesleys. Various contradictory and mutually exclusive theories of these affairs have been advanced. Not one hypothesis satisfies the friends of the others: not one bears examination. The present writer has no theory, except the theory that these experiences (or these modern myths, if any one pleases), are part of the province of anthropology and Folklore.

He would add one obvious yet neglected truth. If a 'ghost-story' be found to contain some slight discrepancy between the narratives of two witnesses, it is at once rejected, both by science and common-sense, as obviously and necessarily and essentially false. Yet no story of the most normal incident in daily life, can well be told without some discrepancies in the relations of witnesses. None the less such stories are accepted even by juries and judges. We cannot expect human testimony suddenly to become impeccable and infallible in all details, just because a 'ghost' is concerned. Nor is it logical to demand here a degree of congruity in testimony, which daily experience of human evidence proves to be impossible, even in ordinary matters.

A collection of recent reports of 'fire-walking' by unscorched ministrants, in the South Seas, in Sarawak, in Bulgaria, and among the Klings, appeals to the present writer in a similar way. Anthropology, he thinks, should compare these reports of living witnesses, with the older reports of similar phenomena, in Virgil, in many books of travel, in saintly legends, in trials by ordeal, and in Iamblichus. Anthropology has treasured the accounts of trials by the ordeal of fire, and has not neglected the tales of old travellers, such as Pallas, and Gmelin. Why she should stand aloof from analogous descriptions by Mr. Basil Thomson, and other living witnesses, the present writer is unable to imagine. The better, the more closely contemporary the evidence, the more a witness of the abnormal is ready to submit to cross-examination, the more his testimony is apt to be neglected by Folklorists. Of course, the writer is not maintaining that there is anything 'psychical' in fire-walking, or in fire-handling. Put it down as a trick. Then as a trick it is so old, so world-wide, that we should ascertain the modus of it. Mr. Clodd, following Sir B. W. Richardson, suggests the use of diluted sulphuric acid, or of alum. But I am not aware that he has tried the experiment on his own person, nor has he produced an example in which it was successfully tried. Science demands actual experiment.
---
---
⇧ Back to top
---