The Fur Country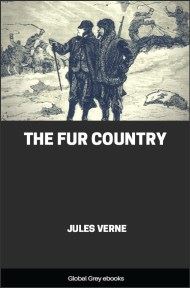 Series: Extraordinary Voyages
Format: Global Grey edition
Pages (PDF): 379
Publication Date: 1873
Illustrations: No
Available formats: PDF, epub, Kindle ebook and read online
(Download links are just below the donate button)
Book Description:
This is the 10th book in the Extraordinary Voyages Series. In 1859 Lt. Jasper Hobson and other members of the Hudson's Bay Company travel through the Northwest Territories of Canada to Cape Bathurst on the Arctic Ocean on the mission to create a fort at 70 degrees, north of the Arctic Circle. The area they come to is very rich with wildlife and natural resources. Hobson and his party establish a fort, but when an earthquake occurs, the laws of physics are altered.
---
It took me about 3 hours to make this book so you could download it within seconds.
Please remember, I run this site alone, and without your help, this site will struggle to continue. Small sites costs money to run too, and without your support, Amazon and other huge companies, will take over the world (probably). So please, if you have the means to do so, make a small contribution.
The recommended donation for this book is £1.99, but feel free to pay more or less (or more)
Donate with PayPal
Donate with your credit/debit card
Support the site using your PayPal account – or pay with your credit/debit card as a guest (no PayPal account needed).


Support the site using your credit/debit card via Donorbox, using the secure payment gateway, Stripe. (Donation box will open here in pop-up – no taking you away from the site).
---