Fairy Tales of Modern Greece
By

Theodore P. Gianakoulis and Georgia H. MacPherson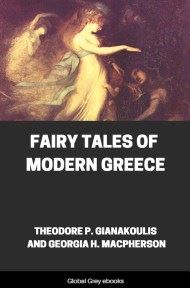 Format: Global Grey illustrated edition
Pages (PDF): 61
Publication Date: 1930
Illustrations: Yes
Available formats: Global Grey PDF
(Download link is just below the donate button)
Book Description:
This is a collection of stories about Greek fairies. Similar to the northern fairies, they are not adverse to interacting with mortals. However, there is always some proviso, such as the fairy bride who is forbidden to speak, and drives her husband mad (The Fairy Mother). The tragedy can also turn the other way, such as the fairy maiden exiled from the fairy palace by one kiss from a mortal (The Fairy Comb). Chapters include: The Fairy-Hunter; Fairy Gardens; The Fairy Wife; Fairies Of The Waterfall; The Fairy Comb; A Fairy Wedding; The Fairy Ring; The Fairies' Theft; The Haunted Ship; The Wonder Of Skoupa; The First Of May; and, The Fairy Mother.
---
These books take me anywhere from 2 to 10 hours to create. Only a tiny minority of people donate (less than 1%), yet thousands of books are downloaded every day. There is no big company behind this site – it is just me, and I really need the support of my visitors to help keep this site running. So if you feel I have helped you by providing this ebook, please consider making a small donation payment of £1.00 or whatever you can.. Thanks – Julie 🙂
Donate with PayPal
Donate with your credit/debit card
Support the site using your PayPal account – or pay with your credit/debit card as a guest (no PayPal account needed).


Support the site using your credit/debit card via Donorbox, using the secure payment gateway, Stripe. (Donation box will open here in pop-up – no taking you away from the site).
I will be converting this into epub and Kindle ebook soon, but if you want it done now, contact me and I'll do it as soon as possible.
---