Can Such Things Be?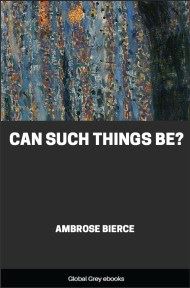 Format: Global Grey edition
Pages (PDF): 167
Publication Date: 1893
Illustrations: No
Available formats: PDF, epub, Kindle ebook
(Download links are just below the donate button)
Book Description:
A collection of ghostly and strange short stories: The Death of Halpin Frayser; The Secret of Macarger's Gulch; One Summer Night; The Moonlit Road; A Diagnosis of Death; Moxon's Master; A Tough Tussle; One of Twins; The Haunted Valley; A Jug of Sirup; Staley Fleming's Hallucination; A Resumed Identity; A Baby Tramp; The Night-Doings at "Deadman's"; Beyond the Wall; A Psychological Shipwreck; The Middle Toe of the Right Foot; John Mortonson's Funeral; The Realm of the Unreal; John Bartine's Watch; The Damned Thing; Haita the Shepherd; An Inhabitant of Carcosa; and, The Stranger.
---
It took me about 2 hours to make this book so you could download it within seconds.
However, please remember I am but one woman trying to make a living with this site. So I expect my customers to be customers and help me out a little. Or a lot. You get the drift. Pay me…please 😀
The recommended donation for this book is £0.99, but feel free to pay more or less (or more)
Donate with PayPal
Donate with your credit/debit card
Support the site using your PayPal account – or pay with your credit/debit card as a guest (no PayPal account needed).


Support the site using your credit/debit card via Donorbox, using the secure payment gateway, Stripe. (Donation box will open here in pop-up – no taking you away from the site).
---