---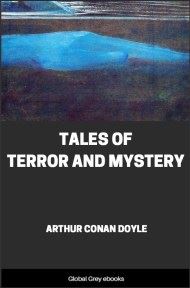 Format: Global Grey free PDF, epub, Kindle ebook
Pages (PDF): 199
Publication Date: 1923
Download links are below the donate buttons
Donate with PayPal (using either a Paypal account or credit/debit card).
Donate via Donorbox using the secure payment gateway Stripe (with credit/debit card)
Donate
Summary:
A collection of short stories that don't feature Doyle's most famous creation, Sherlock Holmes. Stories include: The Horror Of The Heights; The Leather Funnel; The New Catacomb; The Case Of Lady Sannox; The Terror Of Blue John Gap; The Brazilian Cat; The Lost Special; The Beetle-Hunter; The Man With The Watches; The Japanned Box; The Black Doctor; and, The Jew's Breastplate.
---
---
More books you might like:
Excerpt:
The idea that the extraordinary narrative which has been called the Joyce-Armstrong Fragment is an elaborate practical joke evolved by some unknown person, cursed by a perverted and sinister sense of humour, has now been abandoned by all who have examined the matter. The most macabre and imaginative of plotters would hesitate before linking his morbid fancies with the unquestioned and tragic facts which reinforce the statement. Though the assertions contained in it are amazing and even monstrous, it is none the less forcing itself upon the general intelligence that they are true, and that we must readjust our ideas to the new situation. This world of ours appears to be separated by a slight and precarious margin of safety from a most singular and unexpected danger. I will endeavour in this narrative, which reproduces the original document in its necessarily somewhat fragmentary form, to lay before the reader the whole of the facts up to date, prefacing my statement by saying that, if there be any who doubt the narrative of Joyce-Armstrong, there can be no question at all as to the facts concerning Lieutenant Myrtle, R. N., and Mr. Hay Connor, who undoubtedly met their end in the manner described.

The Joyce-Armstrong Fragment was found in the field which is called Lower Haycock, lying one mile to the westward of the village of Withyham, upon the Kent and Sussex border. It was on the 15th September last that an agricultural labourer, James Flynn, in the employment of Mathew Dodd, farmer, of the Chauntry Farm, Withyham, perceived a briar pipe lying near the footpath which skirts the hedge in Lower Haycock. A few paces farther on he picked up a pair of broken binocular glasses. Finally, among some nettles in the ditch, he caught sight of a flat, canvas-backed book, which proved to be a note-book with detachable leaves, some of which had come loose and were fluttering along the base of the hedge. These he collected, but some, including the first, were never recovered, and leave a deplorable hiatus in this all-important statement. The note-book was taken by the labourer to his master, who in turn showed it to Dr. J. H. Atherton, of Hartfield. This gentleman at once recognized the need for an expert examination, and the manuscript was forwarded to the Aero Club in London, where it now lies.

The first two pages of the manuscript are missing. There is also one torn away at the end of the narrative, though none of these affect the general coherence of the story. It is conjectured that the missing opening is concerned with the record of Mr. Joyce-Armstrong's qualifications as an aeronaut, which can be gathered from other sources and are admitted to be unsurpassed among the air-pilots of England. For many years he has been looked upon as among the most daring and the most intellectual of flying men, a combination which has enabled him to both invent and test several new devices, including the common gyroscopic attachment which is known by his name. The main body of the manuscript is written neatly in ink, but the last few lines are in pencil and are so ragged as to be hardly legible—exactly, in fact, as they might be expected to appear if they were scribbled off hurriedly from the seat of a moving aeroplane. There are, it may be added, several stains, both on the last page and on the outside cover which have been pronounced by the Home Office experts to be blood—probably human and certainly mammalian. The fact that something closely resembling the organism of malaria was discovered in this blood, and that Joyce-Armstrong is known to have suffered from intermittent fever, is a remarkable example of the new weapons which modern science has placed in the hands of our detectives.

And now a word as to the personality of the author of this epoch-making statement. Joyce-Armstrong, according to the few friends who really knew something of the man, was a poet and a dreamer, as well as a mechanic and an inventor. He was a man of considerable wealth, much of which he had spent in the pursuit of his aeronautical hobby. He had four private aeroplanes in his hangars near Devizes, and is said to have made no fewer than one hundred and seventy ascents in the course of last year. He was a retiring man with dark moods, in which he would avoid the society of his fellows. Captain Dangerfield, who knew him better than anyone, says that there were times when his eccentricity threatened to develop into something more serious. His habit of carrying a shot-gun with him in his aeroplane was one manifestation of it.

Another was the morbid effect which the fall of Lieutenant Myrtle had upon his mind. Myrtle, who was attempting the height record, fell from an altitude of something over thirty thousand feet. Horrible to narrate, his head was entirely obliterated, though his body and limbs preserved their configuration. At every gathering of airmen, Joyce-Armstrong, according to Dangerfield, would ask, with an enigmatic smile: "And where, pray, is Myrtle's head?"

On another occasion after dinner, at the mess of the Flying School on Salisbury Plain, he started a debate as to what will be the most permanent danger which airmen will have to encounter. Having listened to successive opinions as to air-pockets, faulty construction, and over-banking, he ended by shrugging his shoulders and refusing to put forward his own views, though he gave the impression that they differed from any advanced by his companions.

It is worth remarking that after his own complete disappearance it was found that his private affairs were arranged with a precision which may show that he had a strong premonition of disaster. With these essential explanations I will now give the narrative exactly as it stands, beginning at page three of the blood-soaked note-book: