The Secrets of Dr. John Taverner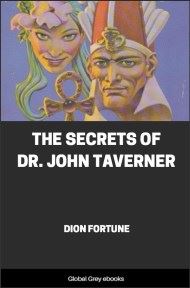 Format: Global Grey edition
Pages (PDF): 218
Publication Date: 1922
Illustrations: No
Available formats: PDF, epub, Kindle ebook
(Download links are just below the donate button)
Book Description:
A collection of occult fiction stories. Dr. Taverner runs a nursing home — but it is not by any means a conventional one. It is a hospital for all manner of unorthodox mental disturbances, ranging from psychic attack and disruptions in group minds to vampirism. These are cases that conventional psychology cannot cure. Only the secret knowledge of Taverner, based on esoteric training, is enough to unravel the solutions.Each story in this collection is a complete case.
---
It took me about 2 hours to make this book so you could download it within seconds.
However, please remember I am but one woman trying to make a living with this site. So I expect my customers to be customers and help me out a little. Or a lot. You get the drift. Pay me…please 😀
The recommended donation for this book is £0.99, but feel free to pay more or less (or more)
Donate with PayPal
Donate with your credit/debit card
Support the site using your PayPal account – or pay with your credit/debit card as a guest (no PayPal account needed).


Support the site using your credit/debit card via Donorbox, using the secure payment gateway, Stripe. (Donation box will open here in pop-up – no taking you away from the site).
---