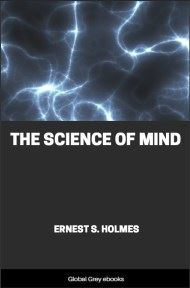 The Science of Mind
Format: Global Grey free PDF, epub, Kindle ebook
Pages (PDF): 330
Publication Date: 1929
Download Links:
I run this site on my own and spend a lot of time (and money) creating these ebooks. Please support the site by buying a collection; like the Mind and Body one for only £4 or by making a small donation using the buttons below.
PDF
ePub
Kindle
Stripe(£GBP):
Summary:
From the Foreword: 'In presenting these lessons on Mental Science, I do not claim to have discovered any new Truth. The Truth has been known in every age by a few; but the great mass of people has never even dreamed that we live in a mental and spiritual world. To-day, however, there is a great inquiry into the deeper meaning of life because the race has reached a state of unfoldment where a broader scope is possible. These lessons are an attempt to put into the spoken word and into print some of those great truths known to the enlightened of all ages.'
More books you might like:
Excerpt:
If we traced man's history back into the dim past we should come to a place where he did not consciously know himself. We should come to a place where Instinctive Man alone existed; for the self-conscious man had not yet evolved.

Nothing can be more apparent than that man, as he now appears, is the result of growth and unfoldment. But in order to unfold, he had to have something from which to unfold, and since he is intelligent, he must have unfolded from an intelligent cause.

Instinctive Man, then, means that Inner Something, or Life, which we do not see but which is, of course, there. We might say that Instinctive Life is God in man, or the idea of God, working through man. But if Instinctive Man is an idea of God, why is he not perfect? The answer is that he is perfect, but that as soon as individuality is evolved he must be left alone to discover himself. Even God could not make a mechanical Individuality. If man is created with the attributes of self-choice and free will, he must be let alone to make the great discovery for himself.

NATURE WAITS ON MAN'S SELF-RECOGNITION

We note, that from the day when Instinctive Life brought man to the point of self-choice, it let him alone, and from that day Instinctive Life has waited on man's unfoldment. It is true that during all this time it has carried on the automatic functions of the body and has even silently told man what to do; but it has let him alone in all other ways. It may, and must, hold man as a perfect being, but it also must let him discover this fact for himself. During all of this time, however, Instinctive Life, or God, must be silently waiting for the great discovery to be made and must always be ready to respond to man's advancement. We note this to be true along the line of man's progress. For instance, consider the discovery of any of nature's forces; we know that they must have always existed; but, so far as man is concerned, they exist to him only after he has discovered, and learned how to make use of them. Electricity was a reality in the universe when Moses led the Children of Israel from the land of Egypt, but neither Moses nor any of his followers knew anything about it, and so they did not receive any benefits from its use. This is true of any and all of the natural laws; they always existed, and as soon as understood may be used. In this way, Instinctive Life waits upon man's discovery of the natural laws and his discovery of himself and his relationship to the great Whole.

If this is so evidently true of all the forces in the natural world we must expect to find the same thing to be true of those inner and finer forces within man. The unfoldment of these inner and finer forces through man is what we call his evolution.

THE FIRST GREAT DISCOVERY

The first great discovery that man made was that he could think. This was the day when he rose from the ground and said, "I AM." This marked the first great day of personal attainment; and from that day man became an individual and had to make all further progress himself; any compulsory evolution stopped when man became an individual, and from that day he had to work in conscious union with Nature and Her forces; but he did not have to work alone, for Instinctive Life has always been with him and will never depart from him. Instinctive Life desires that man shall express more, and yet more, of its own limitless possibilities.

Man is evolving from an Infinite basis; behind him is the great Unknown but not the great unknowable; for the unknown becomes known through man, and whatever more Instinctive Life is to do for him must be done through him. Nature must work through man in order to work for him. This is true all along the line of life and endeavor. The first great discovery of man was that he could think, plan and execute. As the result of this discovery he has built up a great civilization and all that goes with it. He has harnessed electricity to his inventions, tied steam and compelled it to do his bidding. He has laid waste forests, built cities, made the desert to bloom, and has thrown the lines of his commerce around the globe; indeed, he has seemed to possess the earth.

THE INNER SENSE AWAKENS

But with all of man's powers he has still felt a vague sense of something more, something greater, something further along; a sort of mystical inner sense of things, an instinctive urge, a blind groping after a greater light. Disregarding all of his apparent power, man has still been unhappy, sick, lonely and afraid. The cities which he built have crumbled into dust, the nations which he fostered have, one by one, fallen into ruin, and history alone remains to tell the tale of most of his endeavors.

In spite of man's apparent power he has suffered greatly, and death has crowned his life and work with a pall of darkness and uncertainty.

THE GREAT QUESTION "WHY"

The great question "Why" has forever been upon his lips. Few indeed have been able to answer this question; and these few have been passed by, unheeded, in the struggle for existence.

Man has struggled along the weary road with a heavy heart and bleeding feet, only to be met by the grave. The lack of a sense of completion has beset his every pathway; and in his blind groping he has held up his hands in speechless anguish, and his broken cries have rent the air with supplications to an apparently unheeding Deity. Why the suffering, the sorrow, the sin, the sickness and a lifetime of trouble, only to be met at last by the grim and sinister tomb?
---
---
⇧ Back to top
---