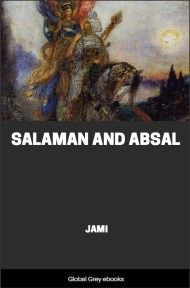 Salaman and Absal
Jami
Format: Global Grey free PDF, epub, Kindle ebook
Pages (PDF): 65
Publication Date: This translation by Edward Fitzgerald, 1904
Download Links:
I run this site (and create these ebooks) by myself. Please help out by making a small payment donation of £1, or whatever you can, for this book. It only takes a minute and you don't need a PayPal account.
PDF
ePub
Kindle
Stripe(£GBP):
Summary:
This is a translation of an allegorical Sufi poem by the Persian Sufi poet Jami. It tells the story of a carnal attraction of a prince for his wet-nurse. Nur ad-Din Abd ar-Rahman Jami, (b. 1441 d. 1492), lived in what is today Afghanistan and Uzebekistan. The translator, Edward Fitzgerald, is best known for his translation of the Rubayyat of Omar Khayyam.
More books you might like:
Excerpt:
Núruddín Abdurrahman, Son of Maulána Nizamuddin Ahmed, and descended on the Mother's side from One of the Four great "Fathers" of Islamism, was born A.H. 817, A.D. 1414, in Jám, a little Town of Khorásan, whither (according to the Heft Aklím—"Seven Climates") his Grandfather had migrated from Desht of Ispahán, and from which the Poet ultimately took his Takhalus, or Poetic name, Jámi. This word also signifies "A Cup;" wherefore, he says, "Born in Jám, and dipt in the "Jam" of Holy Lore, for a double reason I must be called Jámi in the Book of Song." He was celebrated afterwards in other Oriental Titles—"Lord of Poets"—"Elephant of Wisdom," &c., but often liked to call himself "The Ancient of Herát," where he mainly resided.

When Five Years old he received the name of Núruddín—the "Light of Faith," and even so early began to show the Metal, and take the Stamp that distinguished him through Life. In 1419, a famous Sheikh, Khwájah Mehmed Parsa, then in the last year of his Life, was being carried through Jám. "I was not then Five Years old," says Jámi, "and my Father, who with his Friends went forth to salute him, had me carried on the Shoulders of one of the Family and set down before the Litter of the Sheikh, who gave a Nosegay into my hand. Sixty years have passed, and methinks I now see before me the bright Image of the Holy Man, and feel the Blessing of his Aspect, from which I date my after Devotion to that Brotherhood in which I hope to be enrolled."

So again, when Maulána Fakhruddín Loristani had alighted at his Mother's house—"I was then so little that he set me upon his Knee, and with his Fingers drawing the Letters of 'Ali' and 'Omar' in the Air, laughed delightedly to hear me spell them. He also by his Goodness sowed in my Heart the Seed of his Devotion, which has grown to Increase within me—in which I hope to live, and in which to die. Oh God! Dervish let me live, and Dervish die; and in the Company of the Dervish do Thou quicken me to Life again!"

Jámi first went to a School at Herát; and afterward to one founded by the Great Timúr at Samarcand. There he not only outstript his Fellows in the very Encyclopaedic Studies of Persian Education, but even puzzled the Doctors in Logic, Astronomy, and Theology; who, however, with unresenting Gravity welcomed him—"Lo! a new Light added to our Galaxy!"—In the wider Field of Samarcand he might have liked to remain; but Destiny liked otherwise, and a Dream recalled him to Herát. A Vision of the Great Súfi Master there, Mehmed Saaduddín Kaschgari, of the Nakhsbend Order of Dervishes, appeared to him in his Sleep, and bade him return to One who would satisfy all Desire. Jámi went back to Herát; he saw the Sheikh discoursing with his Disciples by the Door of the Great Mosque; day after day passed by without daring to present himself; but the Master's Eye was upon him; day by day draws him nearer and nearer—till at last the Sheikh announces to those about him—"Lo! this Day have I taken a Falcon in my Snare!"

Under him Jámi began his Súfi Noviciate, with such Devotion, and under such Fascination from the Master, that going, he tells us, but for one Summer Day's Holiday into the Country, one single Line was enough to "lure the Tassel-gentle back again;"

"Lo! here am I, and Thou look'st on the Rose!"

By and bye he withdraws, by course of Súfi Instruction, into Solitude so long and profound, that on his Return to Men he has almost lost the Power of Converse with them. At last, when duly taught, and duly authorized to teach as Súfi Doctor, he yet will not, though solicited by those who had seen such a Vision of Him as had drawn Himself to Herát; and not till the Evening of his Life is he to be seen with White hairs taking that place by the Mosque which his departed Master had been used to occupy before.

Meanwhile he had become Poet, which no doubt winged his Reputation and Doctrine far and wide through Nations to whom Poetry is a vital Element of the Air they breathe. "A Thousand times," he says, "I have repented of such Employment; but I could no more shirk it than one can shirk what the Pen of Fate has written on his Forehead"—"As Poet I have resounded through the World; Heaven filled itself with my Song, and the Bride of Time adorned her Ears and Neck with the Pearls of my Verse, whose coming Caravan the Persian Hafíz and Saadi came forth gladly to salute, and the Indian Khosrú and Hasan hailed as a Wonder of the World." "The Kings of India and Rúm greet me by Letter: the Lords of Irák and Tabríz load me with Gifts; and what shall I say of those of Khorasán, who drown me in an Ocean of Munificence?"

This, though Oriental, is scarcely Bombast. Jámi was honoured by Princes at home and abroad, and at the very time they were cutting one another's Throats; by his own Sultan Abou Saïd; by Hasan Beg of Mesopotamia—"Lord of Tabríz"—by whom Abou Saïd was defeated, dethroned, and slain; by Mahomet II. of Turkey—"King of Rúm"—who in his turn defeated Hasan; and lastly by Husein Mirza Baikara, who extinguished the Prince whom Hasan had set up in Abou's Place at Herát. Such is the House that Jack builds in Persia.

As Hasan Beg, however—the Usuncassan of old European Annals—is singularly connected with the present Poem, and with probably the most important event in Jámi's Life, I will briefly follow the Steps that led to that as well as other Princely Intercourse.
---
---
⇧ Back to top
---