The Sacred Theory of the Earth
By

Thomas Burnet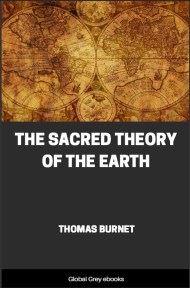 Format: Global Grey illustrated edition
Pages (PDF): 552
Publication Date: 1691
Illustrations: Yes
Available formats: Global Grey PDF
(Download link is just below book description)
Book Description:
Thomas Burnet was an English theologian and writer on cosmogony. The first part of this book was published in 1681 in Latin, and in 1684 in English translation; the second part appeared in 1689 (1690 in English). It is a speculative cosmogony, in which Burnet suggests a hollow earth with most of the water inside until Noah's Flood, at which time mountains and oceans appeared. He calculated the amount of water on Earth's surface, stating there was not enough to account for the Flood.
---
It took me about 8 hours to make this book so you could download it within seconds.
However, please remember I am but one woman trying to make a living with this site. So I expect my customers to be customers and help me out a little. Or a lot. You get the drift. Pay me…please 😀
The recommended donation for this book is £4.99, but feel free to pay more or less (or more)
Donate with PayPal
Donate with your credit/debit card
Support the site using your PayPal account – or pay with your credit/debit card as a guest (no PayPal account needed).


Support the site using your credit/debit card via Donorbox, using the secure payment gateway, Stripe. (Donation box will open here in pop-up – no taking you away from the site).
I will be converting this into epub and Kindle ebook soon, but if you want it done now, contact me and I'll do it as soon as possible.
---