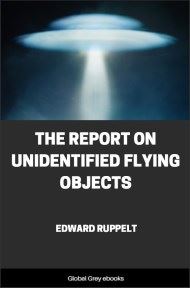 The Report on Unidentified Flying Objects
Edward Ruppelt
Format: Global Grey free PDF, epub, Kindle ebook
Pages (PDF): 304
Publication Date: 1956
Download Links:
I run this site on my own and spend a lot of time (and money) creating these ebooks. Please support the site by buying a collection; like the Paranormal one for only £2.50 or by making a small donation using the buttons below.
PDF
ePub
Kindle
Stripe(£GBP):
Summary:
The meticulous account of the top military brass on UFOs in the United States. Written and documented by the former head of the Air Force Project Blue Book, the federal organization in charge of a formal government study of UFO's.
More books you might like:
Excerpt:
In the summer of 1952 a United States Air Force F-86 jet interceptor shot at a flying saucer.

This fact, like so many others that make up the full flying saucer story, has never before been told.

I know the full story about flying saucers and I know that it has never before been told because I organized and was chief of the Air Force's Project Blue Book, the special project set up to investigate and analyze unidentified flying object, or UFO, reports. (UFO is the official term that I created to replace the words "flying saucers.")

There is a fighter base in the United States which I used to visit frequently because, during 1951, 1952, and 1953, it got more than its share of good UFO reports.

The commanding officer of the fighter group, a full colonel and command pilot, believed that UFO's were real. The colonel believed in UFO's because he had a lot of faith in his pilots—and they had chased UFO's in their F-86's. He had seen UFO's on the scopes of his radar sets, and he knew radar.

The colonel's intelligence officer, a captain, didn't exactly believe that UFO's were real, but he did think that they warranted careful investigation. The logic the intelligence officer used in investigating UFO reports—and in getting answers to many of them—made me wish many times that he worked for me on Project Blue Book.

One day the intelligence officer called me at my base in Dayton, Ohio. He wanted to know if I was planning to make a trip his way soon. When I told him I expected to be in his area in about a week, he asked me to be sure to look him up. There was no special hurry, he added, but he had something very interesting to show me.

When we got wind of a good story, Project Blue Book liked to start working on it at once, so I asked the intelligence officer to tell me what he had. But nothing doing. He didn't want to discuss it over the phone. He even vetoed the idea of putting it into a secret wire. Such extreme caution really stopped me, because anything can be coded and put in a wire. When I left Dayton about a week later I decided to go straight to the fighter base, planning to arrive there in midmorning. But while I was changing airlines my reservations got fouled up, and I was faced with waiting until evening to get to the base. I called the intelligence officer and told him about the mix-up. He told me to hang on right there and he would fly over and pick me up in a T-33 jet.

As soon as we were in the air, on the return trip, I called the intelligence officer on the interphone and asked him what was going on. What did he have? Why all the mystery? He tried to tell me, but the interphone wasn't working too well and I couldn't understand what he was saying. Finally he told me to wait until we returned to his office and I could read the report myself.

Report! If he had a UFO report why hadn't he sent it in to Project Blue Book as he usually did?

We landed at the fighter base, checked in our parachutes, Mae Wests, and helmets, and drove over to his office. There were several other people in the office, and they greeted me with the usual question, "What's new on the flying saucer front?" I talked with them for a while, but was getting impatient to find out what was on the intelligence officer's mind. I was just about to ask him about the mysterious report when he took me to one side and quietly asked me not to mention it until everybody had gone.

Once we were alone, the intelligence officer shut the door, went over to his safe, and dug out a big, thick report. It was the standard Air Force reporting form that is used for all intelligence reports, including UFO reports. The intelligence officer told me that this was the only existing copy. He said that he had been told to destroy all copies, but had saved one for me to read.

With great curiosity, I took the report and started to read. What had happened at this fighter base?

About ten o'clock in the morning, one day a few weeks before, a radar near the base had picked up an unidentified target. It was an odd target in that it came in very fast—about 700 miles per hour—and then slowed down to about 100 miles per hour. The radar showed that it was located northeast of the airfield, over a sparsely settled area.

Unfortunately the radar station didn't have any height-finding equipment. The operators knew the direction of the target and its distance from the station but they didn't know its altitude. They reported the target, and two F-86's were scrambled.

The radar picked up the F-86's soon after they were airborne, and had begun to direct them into the target when the target started to fade on the radarscope. At the time several of the operators thought that this fade was caused by the target's losing altitude rapidly and getting below the radar's beam. Some of the other operators thought that it was a high-flying target and that it was fading just because it was so high.
---
---
⇧ Back to top
---