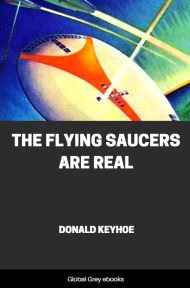 The Flying Saucers are Real
Donald Keyhoe
Format: Global Grey free PDF, epub, Kindle ebook
Pages (PDF): 175
Publication Date: 1950
Download Links (below donate buttons):
Stripe:
---
PDF
ePub
Kindle
Summary:
In a personal, no-nonsense style, Keyhoe in "The Flying Saucers Are Real" provides the details of his investigation: he talks with the witnesses, reviews the history of the phenomenon, and attempts to pry open the secrecy lid the Air Force had clamped down on the subject of UFOs.
More free ebooks:
Excerpt:
IT WAS A strange assignment.

I picked up the telegram from my desk and read it a third time.

NEW YORK, N. Y., MAY 9, 1949

HAVE BEEN INVESTIGATING FLYING SAUCER MYSTERY. FIRST TIP HINTED GIGANTIC HOAX TO COVER UP OFFICIAL SECRET. BELIEVE IT MAY HAVE BEEN PLANTED TO HIDE REAL ANSWER. LOOKS LIKE TERRIFIC STORY. CAN YOU TAKE OVER WASHINGTON END?

KEN W. PURDY, EDITOR, TRUE MAGAZINE

I glanced out at the Potomac, recalling the first saucer story. As a pilot, I'd been skeptical of flying disks. Then reports had begun to pour in from Air Force and airline pilots. Apparently alarmed, the Air Force had ordered fighters to pursue the fast-flying saucers. In one mysterious chase, a pilot had been killed, and his death was unexplained. That had been seventeen months ago. Since then, the whole flying-saucer riddle had been hidden behind a curtain of Air Force secrecy.

And now, an assignment from True magazine on flying saucers.

Twenty-four hours later, I was in Ken Purdy's office.

"I've had men on this for two months," he told me. "I might as well warn you, it's a tough story to crack."

"You think it's a Russian missile?" I asked him. "Or an Air Force secret?"

"We've had several answers. None of them stacks up. But I'm positive one was deliberately planted when they found we were checking."

He told me the whole story of the work that had been done by the staff of True and of the reports sent in by competent writers. The deeper he delved into the mystery, the tougher the assignment got. The more I learned about flying saucers, the less I knew.

"There's one angle I want rechecked," Purdy said.

"You've heard of the Mantell case?"

I nodded.

"O.K. Try to get the details of Mantell's radio report to Godman Tower. Before he was killed, he described the thing he was chasing--we know that much. Project 'Saucer' gave out a hint, but they've never released the transcript. Here's another lead. See if you can find anything about a secret picture, taken at Harmon Field, Newfoundland--it was around July 1947. I'll send you other ideas as I get them."

Before I left, Purdy wished me hick and told me that he would work in closest harmony with me.

"But watch out for fake tips," he said. "You'll probably run into some people at the Pentagon who'll talk to you 'off the record.' That handcuffs a writer. Look out they don't lead you into a blind alley. Even the Air Force statements and the Project 'Saucer' report contradict each other."

For six months, I worked with other investigators to solve the mystery of the disks. We checked a hundred sighting reports, frequently crossing the trail of Project "Saucer" teams and F.B.I. agents. Old records gave fantastic leads. So did Air Force plans for exploring space. Rocket experts, astronomers, Air Force officials and pilot gave us clues pointing to a startling solution. Many intelligent persons--including scientists--believe that the saucers contain spies from another planet.

When this first phase was ended, we were faced with a hard decision. We had uncovered important facts, We knew the saucers were real. If it was handled carefully, we believed the story would be in line with a secret Air Force policy.

It was finally decided to publish certain alternate conclusions. The Air Force was informed of True's intentions; no attempt was made to block publication.

In the January 1950 issue of True, I reported that we had reached the following conclusions:

1 The earth has been observed periodically by visitors from another planet.

2. This observation has increased markedly in the past two years.

"The only other possible explanation," I wrote, "is that, the saucers are extremely high-speed, long-range devices developed here on earth. Such an advance (which the Air Force has denied) would require an almost incredible leap in technical progress even for American scientists and designers."

Nation-wide press and radio comment followed the appearance of the article. This publicity was obviously greater than the Air Force had expected. Within twenty-four hours the Pentagon was deluged with telegrams, letters, and long-distance calls. Apparently fearing a panic, the Air Force hastily stated that flying-saucer reports--even those made by its own pilots and high-ranking officers--were mistakes or were caused by hysteria.

But three days later, when it was plain that many Americans calmly accepted True's disclosures, the Air Force released a secret project "Saucer" file containing this significant statement:

"It will never be possible to say with certainty that any individual did not see a space ship, an enemy missile or other object."
---
---
⇧ Back to top
---