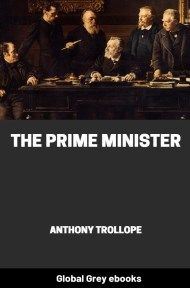 The Prime Minister
Format: Global Grey free PDF, epub, Kindle ebook
Pages (PDF): 768
Publication Date: 1876
Download Links:
I run this site on my own and spend a lot of time (and money) creating these ebooks. Please support the site by buying a collection; like the Fiction one for only £7 or by making a small donation using the buttons below.
PDF
ePub
Kindle
Stripe(£GBP):
Summary:
Despite his mysterious antecedents, an unscrupulous financial speculator, Ferdinand Lopez, aspires to marry into respectability and wealth and join the ranks of British society. One of the nineteenth century's most memorable outsiders, Lopez's story is set against that of the ultimate insider, Plantagenet Palliser, Duke of Omnium, who reluctantly accepts the highest office of state, becoming 'the greatest man in the greatest country in the world.' The Prime Minister is the fifth in Trollope's six-volume Palliser series and a wonderfully subtle portrait of a marriage, political expediency, and misplaced love.
More books you might like:
Excerpt:
It is certainly of service to a man to know who were his grandfathers and who were his grandmothers if he entertain an ambition to move in the upper circles of society, and also of service to be able to speak of them as of persons who were themselves somebodies in their time. No doubt we all entertain great respect for those who by their own energies have raised themselves in the world; and when we hear that the son of a washerwoman has become Lord Chancellor or Archbishop of Canterbury we do, theoretically and abstractedly, feel a higher reverence for such self-made magnate than for one who has been as it were born into forensic or ecclesiastical purple. But not the less must the offspring of the washerwoman have had very much trouble on the subject of his birth, unless he has been, when young as well as when old, a very great man indeed. After the goal has been absolutely reached, and the honour and the titles and the wealth actually won, a man may talk with some humour, even with some affection, of the maternal tub;—but while the struggle is going on, with the conviction strong upon the struggler that he cannot be altogether successful unless he be esteemed a gentleman, not to be ashamed, not to conceal the old family circumstances, not at any rate to be silent, is difficult. And the difficulty is certainly not less if fortunate circumstances rather than hard work and intrinsic merit have raised above his natural place an aspirant to high social position. Can it be expected that such a one when dining with a duchess shall speak of his father's small shop, or bring into the light of day his grandfather's cobbler's awl? And yet it is difficult to be altogether silent! It may not be necessary for any of us to be always talking of our own parentage. We may be generally reticent as to our uncles and aunts, and may drop even our brothers and sisters in our ordinary conversation. But if a man never mentions his belongings among those with whom he lives, he becomes mysterious, and almost open to suspicion. It begins to be known that nobody knows anything of such a man, and even friends become afraid. It is certainly convenient to be able to allude, if it be but once in a year, to some blood relation.

Ferdinand Lopez, who in other respects had much in his circumstances on which to congratulate himself, suffered trouble in his mind respecting his ancestors such as I have endeavoured to describe. He did not know very much himself, but what little he did know he kept altogether to himself. He had no father or mother, no uncle, aunt, brother or sister, no cousin even whom he could mention in a cursory way to his dearest friend. He suffered, no doubt;—but with Spartan consistency he so hid his trouble from the world that no one knew that he suffered. Those with whom he lived, and who speculated often and wondered much as to who he was, never dreamed that the silent man's reticence was a burden to himself. At no special conjuncture of his life, at no period which could be marked with the finger of the observer, did he glaringly abstain from any statement which at the moment might be natural. He never hesitated, blushed, or palpably laboured at concealment; but the fact remained that though a great many men and not a few women knew Ferdinand Lopez very well, none of them knew whence he had come, or what was his family.

He was a man, however, naturally reticent, who never alluded to his own affairs unless in pursuit of some object the way to which was clear before his eyes. Silence therefore on a matter which is common in the mouths of most men was less difficult to him than to another, and the result less embarrassing. Dear old Jones, who tells his friends at the club of every pound that he loses or wins at the races, who boasts of Mary's favours and mourns over Lucy's coldness almost in public, who issues bulletins on the state of his purse, his stomach, his stable, and his debts, could not with any amount of care keep from us the fact that his father was an attorney's clerk, and made his first money by discounting small bills. Everybody knows it, and Jones, who likes popularity, grieves at the unfortunate publicity. But Jones is relieved from a burden which would have broken his poor shoulders, and which even Ferdinand Lopez, who is a strong man, often finds it hard to bear without wincing.

It was admitted on all sides that Ferdinand Lopez was a "gentleman." Johnson says that any other derivation of this difficult word than that which causes it to signify "a man of ancestry" is whimsical. There are many, who in defining the term for their own use, still adhere to Johnson's dictum;—but they adhere to it with certain unexpressed allowances for possible exceptions. The chances are very much in favour of the well-born man, but exceptions may exist. It was not generally believed that Ferdinand Lopez was well born;—but he was a gentleman. And this most precious rank was acceded to him although he was employed,—or at least had been employed,—on business which does not of itself give such a warrant of position as is supposed to be afforded by the bar and the church, by the military services and by physic. He had been on the Stock Exchange, and still in some manner, not clearly understood by his friends, did business in the City.

At the time with which we are now concerned Ferdinand Lopez was thirty-three years old, and as he had begun life early he had been long before the world. It was known of him that he had been at a good English private school, and it was reported, on the solitary evidence of one who had there been his schoolfellow, that a rumour was current in the school that his school bills were paid by an old gentleman who was not related to him.
---
---
⇧ Back to top
---