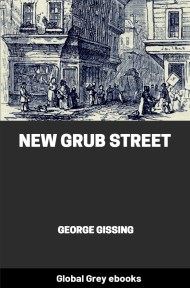 New Grub Street
George Gissing
Format: Global Grey free PDF, epub, Kindle ebook, or read online
Pages (PDF): 570
Publication Date: 1891
Download Links:
I run this site (and create these ebooks) by myself. Please help out by making a small payment donation of £1, or whatever you can, for this book. It only takes a minute and you don't need a PayPal account.
PDF
ePub
Kindle
Online
Stripe(£GBP):
Summary:
Set in and around Grub Street in London, which, in the 18th century, was the hub of what we would now call 'sensationalist journalism', this book by George Gissing follows two characters: Jasper Milvain,a young ambitious journalist who will do whatever it takes to make money, and Edwin Reardon, who holds out as long as he can against writing purely for the sake of financial gain. Grub street actually did exist but was renamed in the early 19th century.
More books you might like:
Excerpt:
As the Milvains sat down to breakfast the clock of Wattleborough parish church struck eight; it was two miles away, but the strokes were borne very distinctly on the west wind this autumn morning. Jasper, listening before he cracked an egg, remarked with cheerfulness:

'There's a man being hanged in London at this moment.'

'Surely it isn't necessary to let us know that,' said his sister Maud, coldly.

'And in such a tone, too!' protested his sister Dora.

'Who is it?' inquired Mrs Milvain, looking at her son with pained forehead.

'I don't know. It happened to catch my eye in the paper yesterday that someone was to be hanged at Newgate this morning. There's a certain satisfaction in reflecting that it is not oneself.'

'That's your selfish way of looking at things,' said Maud.

'Well,' returned Jasper, 'seeing that the fact came into my head, what better use could I make of it? I could curse the brutality of an age that sanctioned such things; or I could grow doleful over the misery of the poor fellow. But those emotions would be as little profitable to others as to myself. It just happened that I saw the thing in a light of consolation. Things are bad with me, but not so bad as THAT. I might be going out between Jack Ketch and the Chaplain to be hanged; instead of that, I am eating a really fresh egg, and very excellent buttered toast, with coffee as good as can be reasonably expected in this part of the world.—(Do try boiling the milk, mother.)—The tone in which I spoke was spontaneous; being so, it needs no justification.'

He was a young man of five-and-twenty, well built, though a trifle meagre, and of pale complexion. He had hair that was very nearly black, and a clean-shaven face, best described, perhaps, as of bureaucratic type. The clothes he wore were of expensive material, but had seen a good deal of service. His stand-up collar curled over at the corners, and his necktie was lilac-sprigged.

Of the two sisters, Dora, aged twenty, was the more like him in visage, but she spoke with a gentleness which seemed to indicate a different character. Maud, who was twenty-two, had bold, handsome features, and very beautiful hair of russet tinge; hers was not a face that readily smiled. Their mother had the look and manners of an invalid, though she sat at table in the ordinary way. All were dressed as ladies, though very simply. The room, which looked upon a small patch of garden, was furnished with old-fashioned comfort, only one or two objects suggesting the decorative spirit of 1882.

'A man who comes to be hanged,' pursued Jasper, impartially, 'has the satisfaction of knowing that he has brought society to its last resource. He is a man of such fatal importance that nothing will serve against him but the supreme effort of law. In a way, you know, that is success.'

'In a way,' repeated Maud, scornfully.
---
---
⇧ Back to top
---