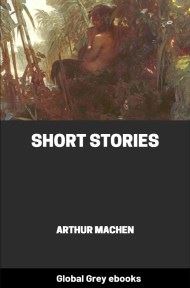 Short Stories
Format: Global Grey free PDF, epub, Kindle ebook, or read online
Pages (PDF): 289
Publication Date: -
Download Links:
I run this site on my own and spend a lot of time (and money) creating these ebooks. Please support the site by buying a collection; like the Fiction (Genre) one for only £15 or by making a small donation using the buttons below.
PDF
ePub
Kindle
Online
Stripe(£GBP):
Summary:
A collection of 11 short stories including: The Great God Pan; The Inmost Light; The Shining Pyramid; The Red Hand; The White People; The Great Return; The Children Of The Pool; Change; A New Christmas Carol; Out Of The Earth; and, The Islington Mystery.
More books you might like:
Excerpt:
There was some sort of confused complaint during last August of the ill behaviour of the children at certain Welsh watering-places. Such reports and vague rumours are most difficult to trace to their heads and fountains; none has better reason to know that than myself. I need not go over the old ground here, but I am afraid that many people are wishing by this time that they had never heard my name; again, a considerable number of estimable persons are concerning themselves gloomily enough, from my point of view, with my everlasting welfare. They write me letters, some in kindly remonstrance, begging me not to deprive poor, sick-hearted souls of what little comfort they possess amidst their sorrows. Others send me tracts and pink leaflets with allusions to "the daughter of a well-known canon"; others again are violently and anonymously abusive. And then in open print, in fair book form, Mr. Begbie has dealt with me righteously but harshly, as I cannot but think.

Yet, it was all so entirely innocent, nay casual, on my part. A poor linnet of prose, I did but perform my indifferent piping in the Evening News because I wanted to do so, because I felt that the story of "The Bowmen" ought to be told. An inventor of fantasies is a poor creature, heaven knows, when all the world is at war; but I thought that no harm would be done, at any rate, if I bore witness, after the fashion of the fantastic craft, to my belief in the heroic glory of the English host who went back from Mons fighting and triumphing.

And then, somehow or other, it was as if I had touched a button and set in action a terrific, complicated mechanism of rumours that pretended to be sworn truth, of gossip that posed as evidence, of wild tarradiddles that good men most firmly believed. The supposed testimony of that "daughter of a well-known canon" took parish magazines by storm, and equally enjoyed the faith of dissenting divines. The "daughter" denied all knowledge of the matter, but people still quoted her supposed sure word; and the issues were confused with tales, probably true, of painful hallucinations and deliriums of our retreating soldiers, men fatigued and shattered to the very verge of death. It all became worse than the Russian myths, and as in the fable of the Russians, it seemed impossible to follow the streams of delusion to their fountain-head—or heads. Who was it who said that "Miss M. knew two officers who, etc., etc."? I suppose we shall never know his lying, deluding name.

And so, I dare say, it will be with this strange affair of the troublesome children of the Welsh seaside town, or rather of a group of small towns and villages lying within a certain section or zone, which I am not going to indicate more precisely than I can help, since I love that country, and my recent experience with "The Bowmen" have taught me that no tale is too idle to be believed. And, of course, to begin with, nobody knew how this odd and malicious piece of gossip originated. So far as I know, it was more akin to the Russian myth than to the tale of "The Angels of Mons." That is, rumour preceded print; the thing was talked of here and there and passed from letter to letter long before the papers were aware of its existence. And—here it resembles rather the Mons affair—London and Manchester, Leeds and Birmingham were muttering vague unpleasant things while the little villages concerned basked innocently in the sunshine of an unusual prosperity.

In this last circumstance, as some believe, is to be sought the root of the whole matter. It is well known that certain east coast towns suffered from the dread of air-raids, and that a good many of their usual visitors went westward for the first time. So there is a theory that the east coast was mean enough to circulate reports against the west coast out of pure malice and envy. It may be so; I do not pretend to know. But here is a personal experience, such as it is, which illustrated the way in which the rumour was circulated. I was lunching one day at my Fleet Street tavern—this was early in July—and a friend of mine, a solicitor, of Serjeants' Inn, came in and sat at the same table. We began to talk of holidays and my friend Eddis asked me where I was going. "To the same old place," I said. "Manavon. You know we always go there." "Are you really?" said the lawyer; "I thought that coast had gone off a lot. My wife has a friend who's heard that it's not at all that it was."

I was astonished to hear this, not seeing how a little village like Manavon could have "gone off." I had known it for ten years as having accommodation for about twenty visitors, and I could not believe that rows of lodging houses had sprung up since the August of 1914. Still I put the question to Eddis: "Trippers?" I asked, knowing firstly that trippers hate the solitudes of the country and the sea; secondly, that there are no industrial towns within cheap and easy distance, and thirdly, that the railways were issuing no excursion tickets during the war.
---
---
⇧ Back to top
---