Mind Power: The Secret of Mental Magic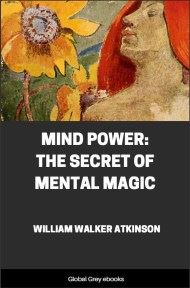 Format: Global Grey edition
Pages (PDF): 274
Publication Date: 1912
Illustrations: No
Available formats: PDF, epub, Kindle ebook and read online
(Download links are just below the donate button)
Book Description:
In 1907 there appeared a little book entitled: "The Secret of Mental Magic," by William Walker Atkinson. In 1908, the material of said book was edited, revised, and elaborated by the author; portions of its sequel, "Mental Fascination," combined with it; and a large amount of entirely new material added thereto; the whole being published in new form under the title: "Mind-Power, or The Law of Dynamic Mentation." In the present edition, the sub-title has been changed to "The Secret of Mental Magic"— thus restoring the original title by which the book is best known to thousands of friendly readers.
---
It took me about 3 hours to make this book so you could download it within seconds.
Please remember, I run this site alone, and without your help, this site will struggle to continue. Small sites costs money to run too, and without your support, Amazon and other huge companies, will take over the world (probably). So please, if you have the means to do so, make a small contribution.
The recommended donation for this book is £1.99, but feel free to pay more or less (or more)
Donate with PayPal
Donate with your credit/debit card
Support the site using your PayPal account – or pay with your credit/debit card as a guest (no PayPal account needed).


Support the site using your credit/debit card via Donorbox, using the secure payment gateway, Stripe. (Donation box will open here in pop-up – no taking you away from the site).
---