Mind Power: The Secret of Mental Magic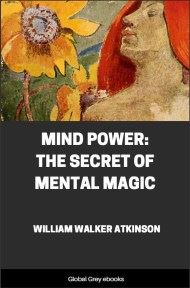 Format: Global Grey edition
Pages (PDF): 274
Publication Date: 1912
Illustrations: No
Available formats: PDF, epub, Kindle ebook
(Download links are just below the donate button)
Book Description:
In 1907 there appeared a little book entitled: "The Secret of Mental Magic," by William Walker Atkinson. In 1908, the material of said book was edited, revised, and elaborated by the author; portions of its sequel, "Mental Fascination," combined with it; and a large amount of entirely new material added thereto; the whole being published in new form under the title: "Mind-Power, or The Law of Dynamic Mentation." In the present edition, the sub-title has been changed to "The Secret of Mental Magic"— thus restoring the original title by which the book is best known to thousands of friendly readers.
---
It took me about 3 hours to make this book so you could download it within seconds.
However, please remember I am but one woman trying to make a living with this site. So I expect my customers to be customers and help me out a little. Or a lot. You get the drift. Pay me…please 😀
The recommended donation for this book is £1.99, but feel free to pay more or less (or more)
Donate with PayPal
Donate with your credit/debit card
Support the site using your PayPal account – or pay with your credit/debit card as a guest (no PayPal account needed).


Support the site using your credit/debit card via Donorbox, using the secure payment gateway, Stripe. (Donation box will open here in pop-up – no taking you away from the site).
---