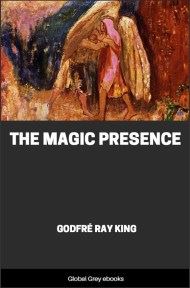 The Magic Presence
Format: Global Grey free PDF, epub, Kindle ebook
Pages (PDF): 252
Publication Date: -
Download Links (below donate buttons):
Stripe:
---
PDF
ePub
Kindle
Summary:
This volume contains the author's second group of experiences with Saint Germain. These experiences were the result of his applying the knowledge he had previously learned, as described in Unveiled Mysteries.
More free ebooks:
Excerpt:
I LEFT you, my reader, at the end of Unveiled Mysteries, with the Great Ascended Master Lanto sending forth His Blessing to America and mankind from the Retreat in the Royal Teton. In this book I shall describe another group of important and wonderful experiences which I was privileged to have during those months of association with our Beloved Ascended Master Saint Germain.

I received a Message from Him one morning, enclosing a letter of introduction to a Mr. Daniel Rayborn at the Brown Palace Hotel in Denver. The next day as I entered the hotel to inquire for him, I met an old friend, Mr. Gaylord, whom I had known for years. He was accompanied by an elderly gentleman whom he presented at once, and who, to my surprise, proved to be Mr. Rayborn. I gave him the letter of introduction, and after a few moments chat, we agreed to have dinner together that evening. The next day found us all en route to the Diamond K Ranch in Wyoming, one of the Rayborn mining properties where the Experiences described in this Book began. Little did I realize that day what my association with him would mean, and to what it would lead later. Such Experiences make one realize how Perfect the Great, Wise, All-Pervading Intelligence is that directs us unerringly to persons, places, and conditions when and where they are most needed.

My impression of Rayborn was very pleasant, for his whole attitude was one of harmony and kindliness, and at the same time I felt that he was a man of strong character with a keen sense of honor. He had a finely-shaped head, classic features, iron gray hair, and clear, piercing blue-gray eyes. He stood very erect and was fully six feet two inches in height. He had a son eighteen and a daughter sixteen years old who had just returned from school in the East.

We reached our destination, where the children met us at the train. After chatting a moment, we entered the Rayborn car and were driven to the ranch, a distance of about twenty miles. The son, Rex, was a tall, splendid, good-looking young chap with the same classic features as his father whom he resembled strongly. He was at least six feet one inch in height with abundant, light brown, wavy hair, and piercing violet-blue eyes. The daughter, Nada, was strikingly beautiful with a strange sort of old-world dignity and grace. She was about five feet seven, slight of build, with hair like her brother's, and deep blue eyes. There was a certain charm about all three Rayborns which everyone felt immediately. The wonderful location and beauty of the house and grounds enchanted us, for it lay at the entrance to a narrow valley extending westward into the embrace of the Great Rockies. To the north, a towering peak rose to a height of over eight thousand feet. The house, facing south, was built of blue-gray granite, making one think of the turreted castles of medieval times in Europe and the ancient buildings of the Far East. The grounds immediately surrounding it were beautifully laid out and perfectly maintained. The building itself was large and rectangular in shape with a tower on each corner -the one at the southwest, facing the mountains, forming a large circular room on the third floor. The rest of the structure was only two stories high and had evidently been built for many, many years. Daniel Rayborn, at the time he was twenty, had inherited the entire estate from an uncle who traveled extensively, was deeply interested in Higher Research Work, and had lived for many years m India and Arabia.

We entered the house, Rex showing me to a suite of rooms on the second floor at the southeast corner of the building. Dinner was soon announced, and we enjoyed a delicious meal and the beautifully appointed table. While dining we entered into the discussion of our plans.

During the course of our meal Mr. Rayborn spoke of expecting John Grey, the superintendent from his mines, to join us that evening. We had scarcely mentioned his name when he was announced. He stepped into the room, greeted the family pleasantly, and I was presented to him. As we shook hands, a cold chill passed over my body, accompanied by a feeling of repulsion. He was a fine-looking man of about forty, almost six feet tall, with piercing dark eyes which I noticed were never still. I saw his eyes follow the daughter very often with a peculiar look which the others did not seem to notice. Mr. Rayborn excused himself, and with the superintendent went into the library. The rest of us went into the music room and enjoyed two hours of delightful music, for both children had remarkable voices. It was during the discussion of their musical training that a shade of sadness passed over Nada's face. She remarked:

"We both inherited our voices from Mother, who sang a great deal in opera, where Father first met her. My mother, in speaking of it, often said: 'We recognized in each other an Inner something that grew stronger and stronger as time went on. Later we learned we were "Twin Rays," which of course accounts for the many wonderful things that have happened to us since. We both have said many times that it seemed as if each had been searching for the other through the centuries; and of course, there has always been that very great Love and Perfect Understanding between us.

"Mother's father was an Englishman, and her mother, who was educated in England, was the daughter of an Arab sheik. Two years ago Mother was taken ill and passed on within a few weeks-although everything possible was done to save her life. During the last four weeks she received Transcendent Revelations which have explained many things to us. Shortly after I was born, our Beloved Master Saint Germain came to her. He explained she had Work to do on the Higher Planes of Life, and that He would always hold Rex and me in His Great Loving, Protecting Care. He is so wonderful and loving to us that I wish we might share our Joy with the whole world. The East and Far East-that is, India, China, Arabia, Egypt, and Persia-give much greater recognition to and understand much more clearly what the Great Ascended Masters have done for humanity and how much the entire race of our Earth owes to Their Transcendent Love and far-reaching Care.
---
---
⇧ Back to top
---