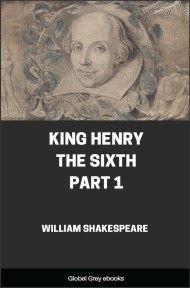 King Henry the Sixth, Part 1
Format: Global Grey free PDF, epub, Kindle ebook
Pages (PDF): 147
Publication Date: 1591
Download Links:
I run this site on my own and spend a lot of time (and money) creating these ebooks. Please support the site by buying a collection; like the Shakespeare one for only £2.50 or by making a small donation using the buttons below.
PDF
ePub
Kindle
Stripe(£GBP):
Summary:
Henry VI, Part 1 (often written as 1 Henry VI), is a history play by William Shakespeare, and possibly Thomas Nashe, believed to have been written in 1591, and set during the lifetime of King Henry VI of England. Whereas 2 Henry VI deals with the King's inability to quell the bickering of his nobles, and the inevitability of armed conflict, and 3 Henry VI deals with the horrors of that conflict, 1 Henry VI deals with the loss of England's French territories and the political machinations leading up to the Wars of the Roses, as the English political system is torn apart by personal squabbles and petty jealousy.
More books you might like:
Excerpt:
Westminster Abbey.

Dead March. Enter the Funeral of KING HENRY the Fifth, attended on by Dukes of BEDFORD, Regent of France; GLOUCESTER, Protector; and EXETER, Earl of WARWICK, the BISHOP OF WINCHESTER, Heralds,

BEDFORD
Hung be the heavens with black, yield day to night!
Comets, importing change of times and states,
Brandish your crystal tresses in the sky,
And with them scourge the bad revolting stars
That have consented unto Henry's death!
King Henry the Fifth, too famous to live long!
England ne'er lost a king of so much worth.

GLOUCESTER
England ne'er had a king until his time.
Virtue he had, deserving to command:
His brandish'd sword did blind men with his beams:
His arms spread wider than a dragon's wings;
His sparking eyes, replete with wrathful fire,
More dazzled and drove back his enemies
Than mid-day sun fierce bent against their faces.
What should I say? his deeds exceed all speech:
He ne'er lift up his hand but conquered.

EXETER
We mourn in black: why mourn we not in blood?
Henry is dead and never shall revive:
Upon a wooden coffin we attend,
And death's dishonourable victory
We with our stately presence glorify,
Like captives bound to a triumphant car.
What! shall we curse the planets of mishap
That plotted thus our glory's overthrow?
Or shall we think the subtle-witted French
Conjurers and sorcerers, that afraid of him
By magic verses have contrived his end?

BISHOP OF WINCHESTER
He was a king bless'd of the King of kings.
Unto the French the dreadful judgement-day
So dreadful will not be as was his sight.
The battles of the Lord of hosts he fought:
The church's prayers made him so prosperous.

GLOUCESTER
The church! where is it? Had not churchmen pray'd,
His thread of life had not so soon decay'd:
None do you like but an effeminate prince,
Whom, like a school-boy, you may over-awe.

BISHOP OF WINCHESTER
Gloucester, whate'er we like, thou art protector
And lookest to command the prince and realm.
Thy wife is proud; she holdeth thee in awe,
More than God or religious churchmen may.
---
---
⇧ Back to top
---