A History of the Huguenots
By

W. Carlos Martyn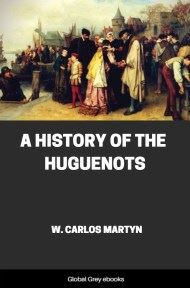 Format: Global Grey edition
Pages (PDF): 302
Publication Date: 1866
Illustrations: No
Available formats: PDF, epub, Kindle ebook
(Download links are just below the donate button)
Book Description:
This is an excellent and inspiring tale of the Huguenots, an ethnoreligious group of French Protestants. John Calvin was a Frenchman and his reformation in the French speaking Swiss city of Geneva had a profound impact on his homeland. The story of these heroic Christians and their struggles for the faith is an edifying exercise for those who desire to know more of their spiritual heritage. The book starts with the history of pre-Reformation France covering the earlier reform movements of the Vaudois, and Cathars, etc. This less well known and fascinating part of history is a valuable addition to this work.
---
It took me about 5 hours to make this book so you could download it within seconds.
However, please remember I am but one woman trying to make a living with this site. So I expect my customers to be customers and help me out a little. Or a lot. You get the drift. Pay me…please 😀
The recommended donation for this book is £1.99.
Donate with PayPal
Donate with your credit/debit card
Support the site using your PayPal account – or pay with your credit/debit card as a guest (no PayPal account needed).


Support the site using your credit/debit card via Donorbox, using the secure payment gateway, Stripe. (Donation box will open here in pop-up – no taking you away from the site).
---