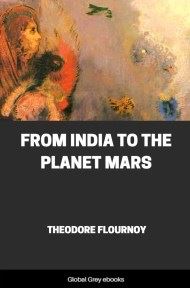 From India to the Planet Mars
Theodore Flournoy
Format: Global Grey free PDF, epub, Kindle ebook
Pages (PDF): 321
Publication Date: 1900
Download Links (below donate buttons):
Stripe:
---
PDF
ePub
Kindle
Summary:
This is a skeptical inquiry into a remarkable 19th century French medium, here called Hélène Smith. She popularized the concept of automatic writing, which earned her admiration from the latter-day Surrealists. And her interplanetary psychic visions are extremely similar to contactee accounts from the 1950s and 1960s. Hélène, at the hands of her bossy and controlling sprit guide 'Leopold,' visited remote times and places, particularly 15th century India (where she was a doomed princess), and 18th century France (where she was Marie Antoinette), and of greatest interest, Mars. This book documents the Martian language and writing, includes hand-drawn illustrations of scenes, and mysterious vignettes of life on another planet. Included are over forty short texts in 'Martian,' with translations in French (interlinear) and English. Flournoy's book brought Hélène fame, and the book is still in print over a hundred years later. However, she was not appreciative of his critical approach, and refused to work with him any further after the book was published.
More free ebooks:
Excerpt:
IN the month of December, 1894, I was invited by M. Aug. Lemaître, Professor of the College of Geneva, to attend some seances of a non-professional medium, receiving no compensation for her services, and of whose extraordinary gifts and apparently supernormal faculties I had frequently heard.

Having gladly accepted the invitation of my worthy colleague, I found the medium in question, whom I shall call Mlle. Hélène Smith, to be a beautiful woman about thirty years of age, tall, vigorous, of a fresh, healthy complexion, with hair and eyes almost black, of an open and intelligent countenance, which at once invoked sympathy. She evinced nothing of the emaciated or tragic aspect which one habitually ascribes to the sibyls of tradition, but wore an air of health, of physical and mental vigor, very pleasant to behold, and which, by-the-way, is not often encountered in those who are good mediums.

The number of those invited to take part in the seance being complete, we seated ourselves in a circle, with our hands resting upon the traditional round table of spiritistic circles. Mlle. Smith—who possesses a triple mediumship: visual, auditive, and typtological —began, in the most natural manner, to describe the various apparitions which passed before her eyes in the partially darkened room. Suddenly she stops and listens; she hears a name spoken in her ear, which she repeats to us with astonishment; then brief sentences, the words of which are spelled out by raps on the table, explain the meaning of the vision. Speaking for myself alone (there were three of us to divide the honor of the seance), I was greatly surprised to recognize in scenes which passed before my eyes events which had transpired in my own family prior to my birth. Whence could the medium, whom I had never met before, have derived the knowledge of events belonging to a remote past, of a private nature, and utterly unknown to any living person?

The astounding powers of Mrs. Piper, the famous Boston medium, whose wonderful intuition reads the latent memories of her visitors like an open book, recurred to my mind, and I went out from that seance with renewed hope of finding myself some day face to face with the "supernormal"—a true and genuine supernormal—telepathy, clairvoyance, spiritistic manifestations, it matters not by what name it be called, provided only that it be wholly out of the ordinary, and that it succeed in utterly demolishing the entire framework of established present-day science.

I was able at this time to obtain general information only concerning the past of Mlle. Smith, but it was all of a character favorable to her, and has since been fully confirmed. Of modest bearing and an irreproachable moral character, she has for years earned an honorable living as an employée of a commercial house, in which her industry, her perseverance, and her high character have combined to secure her a very responsible and important position.

Some three years prior to the date of my introduction to her she had been initiated into a spiritistic group, where her remarkable psychic powers almost immediately manifested themselves; and she then became a member of various other spiritistic circles. From its commencement her mediumship manifested the complex type to which I have already alluded, and from which it has never deviated. Visions in a waking state, accompanied by typtological dictation and auditive hallucinations, alternately appeared. From the point of view of their content these messages had generally a bearing on past events usually unknown to the persons present, but which were always verified by referring to biographical dictionaries or to the traditions of the families interested. To these phenomena of retrocognition or of hypermnesia were joined occasionally, according to the environment, moral exhortations, communicated through the table, more frequently in poetry than in prose, addressed to the sitters; medical consultations, accompanied by prescriptions generally appropriate; communications from parents or friends recently deceased; or, finally, revelations as piquant as they were unverifiable concerning the antériorités (that is, the previous existences) of the sitters, almost all of whom, being profound believers in spiritism, would not have been at all surprised to learn that they were the reincarnations respectively of Coligny, of Vergniaud, of the Princess Lamballe, or of other notable personages. It is necessary, finally, to add that all these messages seemed to be more or less bound up with the mysterious presence of a "spirit" answering to the name of Leopold, who assumed to be the guide and protector of the medium.

I at once undertook to improve my acquaintance with Hélène Smith. She freely consented to give seances for my benefit, alternating with a series which she was giving M. Lemaître, and another for the benefit of Prof. Cuendet, vice-president of the Geneva Society (spiritistic) for Psychic Studies, all of which I was permitted to attend. In this way I have been able to be present at the greater part of Hélène's seances during the past five years. The personal observations that I have thus been able to make, reinforced by notes on sittings which I was unable to attend, kindly furnished me by MM. Lemaître and Cuendet, form the basis of the study which follows; to which must be added, however, certain letters of Mlle. Smith, as well as the numerous and very interesting conversations I have held with her either immediately preceding or following her seances, or at her home, where I also have had the advantage of being able to talk with her mother.
---
---
⇧ Back to top
---