---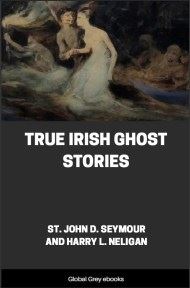 Format: Global Grey free PDF, epub, Kindle ebook
Pages (PDF): 130
Publication Date: 1914
Download links are below the donate buttons
Donate with PayPal (using either a Paypal account or credit/debit card).
Donate via Donorbox using the secure payment gateway Stripe (with credit/debit card)
Donate
Summary:
There are numerous books about Irish Fairies, but this was one of the first to focus on the Irish Ghost. The text visits haunted houses from one end of the island to the other. We learn about garden-variety ghosts as well as poltergeists and Banshees, and find out what to do if a 'Headless Coach' shows up. Seymour solicited the stories from newspaper readers, and many of them are from respectable military, clergymen, and gentry. Seymour also wrote Irish Witchcraft and Demonology. True Irish Ghost Stories is a unique and very entertaining read, particularly for fans of Irish tales, as well as the paranormal investigator.
---
---
More books you might like:
Excerpt:
Of all species of ghostly phenomena, that commonly known as "haunted houses" appeals most to the ordinary person. There is something very eerie in being shut up within the four walls of a house with a ghost. The poor human being is placed at such a disadvantage. If we know that a gateway, or road, or field has the reputation of being haunted, we can in nearly every case make a detour, and so avoid the unpleasant locality. But the presence of a ghost in a house creates a very different state of affairs. It appears and disappears at its own sweet will, with a total disregard for our feelings: it seems to be as much part and parcel of the domicile as the staircase or the hall door, and, consequently, nothing short of leaving the house or of pulling it down (both of these solutions are not always practicable) will free us absolutely from the unwelcome presence.

There is also something so natural, and at the same time so unnatural, in seeing a door open when we know that no human hand rests on the knob, or in hearing the sound of footsteps, light or heavy, and feeling that it cannot be attributed to the feet of mortal man or woman. Or perhaps a form appears in a room, standing, sitting, or walking—in fact, situated in its three dimensions apparently as an ordinary being of flesh and blood, until it proves its unearthly nature by vanishing before our astonished eyes. Or perhaps we are asleep in bed. The room is shrouded in darkness, and our recumbent attitude, together with the weight of bed-clothes, hampers our movements and probably makes us more cowardly. A man will meet pain or danger boldly if he be standing upright—occupying that erect position which is his as Lord of Creation; but his courage does not well so high if he be supine. We are awakened suddenly by the feel that some superhuman Presence is in the room. We are transfixed with terror, we cannot find either the bell-rope or the matches, while we dare not leap out of bed and make a rush for the door lest we should encounter we know not what. In an agony of fear, we feel it moving towards us; it approaches closer, and yet closer, to the bed, and—for what may or may not then happen we must refer our readers to the pages of this book.

But the sceptical reader will say: "This is all very well, but—there are no haunted houses. All these alleged strange happenings are due to a vivid imagination, or else to rats and mice." (The question of deliberate and conscious fraud may be rejected in almost every instance.) This simple solution has been put forward so often that it should infallibly have solved the problem long ago. But will such a reader explain how it is that the noise made by rats and mice can resemble slow, heavy footsteps, or else take the form of a human being seen by several persons; or how our imagination can cause doors to open and shut, or else create a conglomeration of noises which, physically, would be beyond the power of ordinary individuals to reproduce? Whatever may be the ultimate explanation, we feel that there is a great deal in the words quoted by Professor Barrett: "In spite of all reasonable scepticism, it is difficult to avoid accepting, at least provisionally, the conclusion that there are, in a certain sense, haunted houses, i.e. that there are houses in which similar quasi-human apparitions have occurred at different times to different inhabitants, under circumstances which exclude the hypothesis of suggestion or expectation."

We must now turn to the subject of this chapter. Mrs. G. Kelly, a lady well known in musical circles in Dublin, sends as her own personal experience the following tale of a most quiet haunting, in which the spectral charwoman (!) does not seem to have entirely laid aside all her mundane habits.

"My first encounter with a ghost occurred about twenty years ago. On that occasion I was standing in the kitchen of my house in — Square, when a woman, whom I was afterwards to see many times, walked down the stairs into the room. Having heard the footsteps outside, I was not in the least perturbed, but turned to look who it was, and found myself looking at a tall, stout, elderly woman, wearing a bonnet and old-fashioned mantle. She had grey hair, and a benign and amiable expression. We stood gazing at each other while one could count twenty. At first I was not at all frightened, but gradually as I stood looking at her an uncomfortable feeling, increasing to terror, came over me. This caused me to retreat farther and farther back, until I had my back against the wall, and then the apparition slowly faded.

"This feeling of terror, due perhaps to the unexpectedness of her appearance, always overcame me on the subsequent occasions on which I saw her. These occasions numbered twelve or fifteen, and I have seen her in every room in the house, and at every hour of the day, during a period of about ten years. The last time she appeared was ten years ago. My husband and I had just returned from a concert at which he had been singing, and we sat for some time over supper, talking about the events of the evening. When at last I rose to leave the room, and opened the dining-room door, I found my old lady standing on the mat outside with her head bent towards the door in the attitude of listening. I called out loudly, and my husband rushed to my side. That was the last time I have seen her."

"One peculiarity of this spectral visitant was a strong objection to disorder or untidyness of any kind, or even to an alteration in the general routine of the house. For instance, she showed her disapproval of any stranger coming to sleep by turning the chairs face downwards on the floor in the room they were to occupy. I well remember one of our guests, having gone to his room one evening for something he had forgotten, remarking on coming downstairs again, 'Well, you people have an extraordinary manner of arranging your furniture! I have nearly broken my bones over one of the bedroom chairs which was turned down on the floor.'