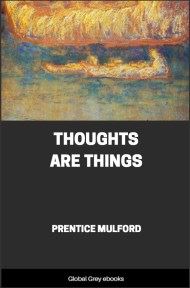 Thoughts Are Things
Prentice Mulford
Format: Global Grey free PDF, epub, Kindle ebook
Pages (PDF): 122
Publication Date: 1889
Download Links:
I run this site (and create these ebooks) by myself. Please help out by making a small payment donation of £1, or whatever you can, for this book. It only takes a minute and you don't need a PayPal account.
PDF
ePub
Kindle
Stripe(£GBP):
Summary:
Prentice Mulford was one of the leaders of the New Thought Movement. This book served as a guide to this new belief system and is still popular today.
More books you might like:
Excerpt:
THERE belongs to every human being a higher self and a lower self--a self or mind of the spirit which has been growing for ages, and a self of the body, which is but a thing of yesterday. The higher self is full of prompting idea, suggestion and aspiration. This it receives of the Supreme Power. All this the lower or animal self regards as wild and visionary. The higher self argues possibilities and power for us greater than men and women now possess and enjoy. The lower self says we can only live and exist as men and women have lived and existed before us. The higher self craves freedom from the cumbrousness, the limitations, the pains and disabilities of the body. The lower self says that we are born to them, born to ill, born to suffer, and must suffer as have so many before us. The higher self wants a standard for right and wrong of its own. The lower self says we must accept a standard made for us by others--by general and long-held opinion, belief and prejudice.

"To thine own self be true" is an oft-uttered adage. But to which self? The higher or lower?

You have in a sense two minds--the mind of the body and the mind of the spirit. Spirit is a force and a mystery. All we know or may ever know of it is that it exists, and is ever working and producing all results in physical things seen of physical sense and many more not so seen.

What is seen, of any object, a tree, an animal, a stone, a man is only a part of that tree, animal, stone, or man. There is a force which for a time binds such objects together in the form you see them. That force is always acting on them to greater or lesser degree. It builds up the flower to its fullest maturity. Its cessation to act on the flower or tree causes what we call decay. It is constantly changing the shape of all forms of what are called organized matter. An animal, a plant, a human being are not in physical shape this month or this year what they will be next month or next year.

This ever-acting, ever-varying force, which lies behind and, in a sense, creates all forms of matter we call Spirit.

To see, reason and judge of life and things in the knowledge of this force makes what is termed the "Spiritual Mind."

We have through knowledge the wonderful power of using or directing this force, when we recognize it, and know that it exists so as to bring us health, happiness and eternal peace of mind. Composed as we are of this force, we are ever attracting more of it to us and making it a part of our being.

With more of this force must come more and more knowledge. At first in our physical existences we allow it to work blindly. Then we are in the ignorance of that condition known as the material mind. But as mind through its growth or increase of this power becomes more and more awakened, it asks: "Why comes so much of pain, grief and disappointment in the physical life?" "Why do we seem born to suffer and decay" That question is the first awakening cry of the spiritual mind, and an earnest question or demand for knowledge must in time be answered.

The material mind is a part of yourself, which has been appropriated by the body and educated by the body. It is as if you taught a child that the wheels of a steamboat made the boat move, and said nothing of the steam, which gives the real power. Bred in such ignorance, the child, should the wheels stop moving, would look no farther for the cause of their stoppage than to try to find where to repair them, very much as now so many depend entirely on repair of the physical body to ensure its healthy, vigorous movement, never dreaming that the imperfection lies in the real motive power--the mind. The mind of the body or material mind sees, thinks and judges entirely from the material or physical standpoint. It sees in your own body all there is of you. The spiritual mind sees the body as an instrument for the mind or real self to use in dealing with material things. The material mind sees in the death of the body an end of all there is of you. The spiritual mind sees in the death of the body only the falling off from the spirit of a worn-out instrument. It knows that you exist as before only invisible to the physical eye. The material mind sees your physical strength as coming entirely from your muscles and sinews, and not from source without your body.

It sees in such persuasive power, as you may have with tongue or pen, the only force you possess for dealing with people to accomplish results The spiritual mind will know in time that your thought influences people for or against your interests, though their bodies are thousands of miles distant. The material mind does not regard its thought as an actual element as real as air or water. The spiritual mind knows that every one of its thousand daily secret thoughts are real things acting on the minds of the persons they are sent to. The spiritual mind knows that matter or the material is only an expression of spirit or force; that such matter is ever changing in accordance with the spirit that makes or externalizes itself in the form we call matter, and therefore, if the thought of health, strength and recuperation is constantly held to in the mind, such thought of health, strength and rejuvenation will express itself in the body, making maturity never ceasing, vigor never ending, and the keenness of every physical sense ever increasing. The material mind thinks matter, or that which is known by our physical senses, to be the largest part of what exists. The spiritual mind regards matter as the coarser or cruder expression of spirit and the smallest part of what really exists.
---
---
⇧ Back to top
---