Book: The Tarjuman al-Ashwaq
Author: Ibn al-Arabi
---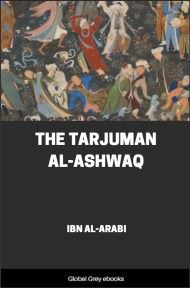 Format: Global Grey free PDF, epub, Kindle ebook
Pages (PDF): 149
Publication Date: This translation by Reynold A. Nicholson, 1911
Download links are below the donate buttons
Donate with PayPal (using either a Paypal account or credit/debit card).
Donate via Donorbox using the secure payment gateway Stripe (with credit/debit card)
Donate
Summary:
One of the most prolific of the medieval Sufi writers, al-Arabi wrote over 150 books. Unfortunately, very little of this output was translated, up to the early 20th century. This is Reynold Nicholson's translation of the Tarjuman al-Ashwaq, or the 'Interpreter of Desires,' the first edition of which was completed in 611 A.H. (1215 A.D.). This text is of great interest, aside from its literary merits as delightful (but highly encoded) Sufi love poetry, because the author supplied extensive commentary for each poem. Note: The original book contains the original Arabic text following the introduction. That part of the book has been omitted for technical reasons. Short passages in Arabic in the body of the have been substituted with ###.
---
---
More books you might like:
Excerpt:
Although Ibn al-'Arabí (560-638 A.H.) is the most celebrated of all Muḥammadan mystics, the only one of his 150 extant works that has hitherto appeared in a European edition is the brief glossary of Ṣúfí technical terms (###) which was published by Fluegel in 1845, together with the Ta'rífat of Jurjání, under the title of Definitiones theosophi Mohji-ed-dín Mohammed ben Ali vulgo Ibn Arabi dicti. So far as I am aware, none of his books has been translated into any European language, and no trustworthy account can yet be given of his vast theosophical speculations, which produced an extraordinary impression throughout the Moslem world. By far the larger portion of his writings is in prose, but the poetical remnant includes a Díwán of about 450 pages (published at Búláq in 1271 A.H.) and several smaller collections. One of these is the Tarjumán al-Ashwáq or 'Interpreter of Desires'. The fact that it is accompanied by a commentary, in which the author himself explains the meaning of almost every verse, was the principal motive that induced me to study it; its brevity was a strong recommendation; and something, I suppose, may be attributed to my possessing an excellent MS., which, as is noted on the last page, has twice undergone collation and correction.

A curious problem of literary history is involved in the question of the date at which the poems and the commentary were composed. The MSS. of the Tarjumán al-Ashwáq exhibit three different recensions. The first recension, represented by Leiden 875 (2), Brit. Mus. 15271, and Gotha 2268, contains the poems without the commentary. In his preface Ibn al-'Arabí refers to his arrival in Mecca in 598 A.H., and Dozy assumed—on insufficient grounds, as I shall presently show—that the poems were composed in that year. They were condemned by some devout Moslems as 'vain and amatorious', and in order to refute his critics the author issued a second recension, represented by Leiden 641 and Brit. Mus. 7541, containing the same poems with a commentary and a new preface, in which he declares that he composed these poems, while visiting the holy places at Mecca, in the months of Rajab, Sha'bán, and Ramaḍán, 611 A.H. The third recension is represented by Bodl. (Uri) 1276, Munich 5241, Berlin 7750 and 7751, and the MS. cited by Ḥájjí Khalífa (Fluegel's edition), ii, 276. It agrees with the second in giving the date of composition as 611 A.H., but includes a statement of the circumstances which caused the author to write his commentary.

My MS. seems to be unique in so far as it contains the preface belonging to the first recension and also the additional statement which differentiates the third recension from the second.

Dozy, as I have said, believed that the true date of composition, namely 598 A.H., was given by the author in the preface to the first recension, and that on publishing the second recension he post-dated it by thirteen years. 'To wipe out the memory of his offence the poet not only proved by means of his commentary that Heavenly, not earthly, love was the theme that inspired him, but he also pretended that the poems were composed at a different time; by which artifice, though he could not deceive those who had read them before, he might dupe anyone who had heard people talk of them and the scandal produced by them.'

Before considering the justice of Dozy's criticism it will be well to set forth the evidence more fully than he has done. I shall therefore summarize the contents of the prose sections which form an introduction to the text of the poems.

1. Preface to the First Recension

On his arrival at Mecca in 598 A.H. Ibn al-'Arabí found a number of scholars and divines, both male and female, whose ancestors had emigrated from Persia in the early days of Islam. He particularly mentions Makínu'ddín Abú Shujá' Záhir b. Rustam b. Abi 'r-Rajá, al-Iṣbahání and his aged sister, Fakhru 'n-Nisá bint Rustam. [With the former he read the book of Abu 'Ísá, at-Tirmidhí on the Apostolic Traditions. He begged Fakhru 'n-Nisá to let him hear Traditions from her, but she excused herself on the plea of her great age, saying that she wished to spend the last years of her life in devotion. She consented, however, that her brother should write for Ibn al-'Arabí, on her behalf, a general certificate (###) for all the Traditions which she related; and he received a similar certificate from Makínu 'ddín himself.]

Makínu 'ddín had a young daughter, called Niẓám and surnamed 'Aynu 'sh-Shams wa 'l-Bahá, who was exceedingly beautiful and was renowned for her asceticism and eloquent preaching. [The author says that he would have descanted on her physical and moral perfections had he not been deterred by the weakness of human souls, which are easily corrupted, but he eulogizes her learning, literary accomplishments, and spiritual gifts.] Ibn al-'Arabí observed the nobility of her nature, which was enhanced by the society of her father and aunt. He celebrated her in the poems contained in this volume, using the erotic style and vocabulary, but he could not express even a small part of the feelings roused in him by the recollection of his love for her in past times (###). [Here my MS. adds: 'Nevertheless I have put into verse for her sake some of the longing thoughts suggested by those precious memories, and I have uttered the sentiments of a yearning soul and have indicated the sincere attachment which I feel, fixing my mind on the bygone days and those scenes which her society has endeared to me' (###).] The author continues: 'Whenever I mention a name in this book I always allude to her, and whenever I mourn over an abode, I mean her abode. In these poems I always signify Divine influences and spiritual revelations and sublime analogies, according to the most excellent way which we (Ṣúfís) follow … God forbid that readers of this book and of my other poems should think of aught unbecoming to souls that scorn evil and to lofty spirits that are attached to the things of Heaven! Amen!'