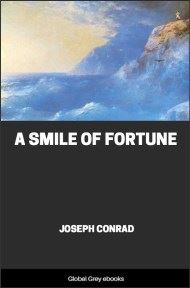 A Smile of Fortune
Format: Global Grey free PDF, epub, Kindle ebook
Pages (PDF): 75
Publication Date: 1911
Download Links (below donate buttons):
Stripe:
---
PDF
ePub
Kindle
Summary:
A Smile of Fortune features a young sea captain who is confronted by a puzzling ethical dilemma. The first person narrator is a confirmed bachelor given to a philosophic approach to life. Arriving at an island in the Indian Ocean, he is given an invitation by his ship's owners to do trade with a local merchant. The merchant turns out to have a brother, and the two of them have diametrically opposed characters: one is socially well respected, but is a brute; the other is a social outcast who wishes to ingratiate himself with the unnamed narrator. For reasons he himself cannot fully understand, the captain opts for the outcast and allows himself to be drawn into his domestic life whilst waiting for his ship to be made ready.
More free ebooks:
Excerpt:
By half-past seven in the morning, the ship being then inside the harbour at last and moored within a long stone's-throw from the quay, my stock of philosophy was nearly exhausted. I was dressing hurriedly in my cabin when the steward came tripping in with a morning suit over his arm.

Hungry, tired, and depressed, with my head engaged inside a white shirt irritatingly stuck together by too much starch, I desired him peevishly to "heave round with that breakfast." I wanted to get ashore as soon as possible.

"Yes, sir. Ready at eight, sir. There's a gentleman from the shore waiting to speak to you, sir."

This statement was curiously slurred over. I dragged the shirt violently over my head and emerged staring.

"So early!" I cried. "Who's he? What does he want?"

On coming in from sea one has to pick up the conditions of an utterly unrelated existence. Every little event at first has the peculiar emphasis of novelty. I was greatly surprised by that early caller; but there was no reason for my steward to look so particularly foolish.

"Didn't you ask for the name?" I inquired in a stern tone.

"His name's Jacobus, I believe," he mumbled shamefacedly.

"Mr. Jacobus!" I exclaimed loudly, more surprised than ever, but with a total change of feeling. "Why couldn't you say so at once?"

But the fellow had scuttled out of my room. Through the momentarily opened door I had a glimpse of a tall, stout man standing in the cuddy by the table on which the cloth was already laid; a "harbour" table-cloth, stainless and dazzlingly white. So far good.

I shouted courteously through the closed door, that I was dressing and would be with him in a moment. In return the assurance that there was no hurry reached me in the visitor's deep, quiet undertone. His time was my own. He dared say I would give him a cup of coffee presently.

"I am afraid you will have a poor breakfast," I cried apologetically. "We have been sixty-one days at sea, you know."

A quiet little laugh, with a "That'll be all right, Captain," was his answer. All this, words, intonation, the glimpsed attitude of the man in the cuddy, had an unexpected character, a something friendly in it — propitiatory. And my surprise was not diminished thereby. What did this call mean? Was it the sign of some dark design against my commercial innocence?

Ah! These commercial interests — spoiling the finest life under the sun. Why must the sea be used for trade — and for war as well? Why kill and traffic on it, pursuing selfish aims of no great importance after all? It would have been so much nicer just to sail about with here and there a port and a bit of land to stretch one's legs on, buy a few books and get a change of cooking for a while. But, living in a world more or less homicidal and desperately mercantile, it was plainly my duty to make the best of its opportunities.

My owners' letter had left it to me, as I have said before, to do my best for the ship, according to my own judgment. But it contained also a postscript worded somewhat as follows: "Without meaning to interfere with your liberty of action we are writing by the outgoing mail to some of our business friends there who may be of assistance to you. We desire you particularly to call on Mr. Jacobus, a prominent merchant and charterer. Should you hit it off with him he may be able to put you in the way of profitable employment for the ship." Hit it off! Here was the prominent creature absolutely on board asking for the favour of a cup of coffee! And life not being a fairy-tale the improbability of the event almost shocked me. Had I discovered an enchanted nook of the earth where wealthy merchants rush fasting on board ships before they are fairly moored? Was this white magic or merely some black trick of trade? I came in the end (while making the bow of my tie) to suspect that perhaps I did not get the name right. I had been thinking of the prominent Mr. Jacobus pretty frequently during the passage and my hearing might have been deceived by some remote similarity of sound . . . The steward might have said Antrobus — or maybe Jackson. But coming out of my stateroom with an interrogative "Mr. Jacobus?" I was met by a quiet "Yes," uttered with a gentle smile. The "yes" was rather perfunctory. He did not seem to make much of the fact that he was Mr. Jacobus. I took stock of a big, pale face, hair thin on the top, whiskers also thin, of a faded nondescript colour, heavy eyelids. The thick, smooth lips in repose looked as if glued together. The smile was faint. A heavy, tranquil man. I named my two officers, who just then came down to breakfast; but why Mr. Burns's silent demeanour should suggest suppressed indignation I could not understand.
---
---
⇧ Back to top
---