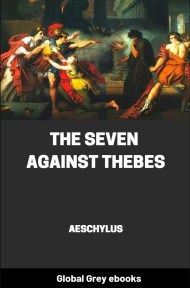 The Seven Against Thebes
Format: Global Grey free PDF, epub, Kindle ebook
Pages (PDF): 45
Publication Date: This translation by E. D. A. Morshead, 1908
Download Links (below donate buttons):
Stripe:
---
PDF
ePub
Kindle
Summary:
The Seven against Thebes is the third play in an Oedipus-themed trilogy produced by Aeschylus in 467 BC. The trilogy is sometimes referred to as the Oedipodea. It concerns the battle between an Argive army led by Polynices and the army of Thebes led by Eteocles and his supporters. The trilogy won the first prize at the City Dionysia. Its first two plays, Laius and Oedipus as well as the satyr play Sphinx are no longer extant.
More free ebooks:
Excerpt:
ETEOCLES

Clansmen of Cadmus, at the signal given
By time and season must the ruler speak
Who sets the course and steers the ship of State
With hand upon the tiller, and with eye
Watchful against the treachery of sleep.
For if all go aright, thank Heaven, men say,
But if adversely-which may God forefend!-
One name on many lips, from street to street,
Would bear the bruit and rumour of the time,
Down witk Eteocles!-a clamorous curse,
A dirge of ruin. May averting Zeus
Make good his title here, in Cadmus' hold!
You it beseems now-boys unripened yet
To lusty manhood, men gone past the prime
And increase of the full begetting seed,
And those whom youth and manhood well combined
Array for action-all to rise in aid
Of city, shrines, and altars of all powers
Who guard our land; that ne'er, to end of time,
Be blotted out the sacred service due
To our sweet mother-land and to her brood.
For she it was who to their guest-right called
Your waxing youth, was patient of the toil,
And cherished you on the land's gracious lap,
Alike to plant the hearth and bear the shield
In loyal service, for an hour like this.
Mark now! until to-day, luck rules our scale;
For we, though long beleaguered, in the main
Have with our sallies struck the foemen hard.
But now the seer, the feeder of the birds
(Whose art unerring and prophetic skill
Of ear and mind divines their utterance
Without the lore of fire interpreted)
Foretelleth, by the mastery of his art,
That now an onset of Achaea's host
Is by a council of the night designed
To fall in double strength upon our walls.
Up and away, then, to the battlements,
The gates, the bulwarks! don your panoplies,
Array you at the breast-work, take your stand
On the floorings of the towers, and with good heart
Stand firm for sudden sallies at the gates,
Nor hold too heinous a respect for hordes
Sent on you from afar: some god will guard!
I too, for shrewd espial of their camp,
Have sent forth scouts, and confidence is mine
They will not fail nor tremble at their task,
And, with their news, I fear no foeman's guile.
---
---
⇧ Back to top
---