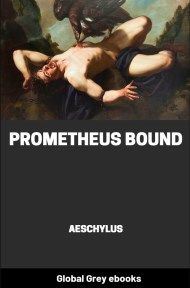 Prometheus Bound
Format: Global Grey free PDF, epub, Kindle ebook
Pages (PDF): 56
Publication Date: Originally written c.430 BC
Download Links:
I run this site (and create these ebooks) by myself. Please help out by making a small payment donation of £1, or whatever you can, for this book. It only takes a minute and you don't need a PayPal account.
PDF
ePub
Kindle
Stripe(£GBP):
Summary:
Prometheus Bound is an Ancient Greek tragedy based on the myth of Prometheus, a Titan who defies the gods and gifts humanity with fire, for which he is subjected to eternal punishment. The play is composed almost entirely of speeches and contains little action since its protagonist is chained and immobile throughout. At the beginning, Kratos (strength), Bia (force), and the smith-god Hephaestus chain the Titan Prometheus to a mountain in the Caucasus, with Hephaestus alone expressing reluctance and pity, and then departing. According to the author, Prometheus is being punished not only for stealing fire, but also for thwarting Zeus's plan to obliterate the human race.
More books you might like:
Excerpt:
KRATOS
Now have we journeyed to a spot of earth
Remote-the Scythian wild, a waste untrod.
And now, Hephaestus, thou must execute
The task our father laid on thee, and fetter
This malefactor to the jagged rocks
In adamantine bonds infrangible;
For thine own blossom of all forging fire
He stole and gave to mortals; trespass grave
For which the Gods have called him to account,
That he may learn to bear Zeus' tyranny
And cease to play the lover of mankind.

HEPHAESTUS
Kratos and Bia, for ye twain the hest
Of Zeus is done with; nothing lets you further.
But forcibly to bind a brother God,
In chains, in this deep chasm raked by all storms
I have not courage; yet needs must I pluck
Courage from manifest necessity,
For woe worth him that slights the Father's word.
O high-souled son of them is sage in counsel,
With heavy heart I must make thy heart heavy,
In bonds of brass not easy to be loosed,
Nailing thee to this crag where no wight dwells,
Nor sound of human voice nor shape of man
Shall visit thee; but the sun-blaze shall roast
Thy flesh; thy hue, flower-fair, shall suffer change;
Welcome will Night be when with spangled robe
She hides the light of day; welcome the sun
Returning to disperse the frosts of dawn.
And every hour shall bring its weight of woe
To wear thy heart away; for yet unborn
Is he who shall release Chee from thy pain.
This is thy wage for loving humankind.
For, being a God, thou dared'st the Gods' ill will,
Preferring, to exceeding honour, Man.
Wherefore thy long watch shall be comfortless,
Stretched on this rock, never to close an eye
Or bend a knee; and vainly shalt thou lift,
With groanings deep and lamentable cries,
Thy voice; for Zeus is hard to be entreated,
As new-born power is ever pitiless.
---
---
⇧ Back to top
---