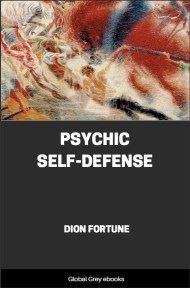 Psychic Self-Defense
Format: Global Grey free PDF, epub, Kindle ebook
Pages (PDF): 209
Publication Date: 1930
Download Links:
I run this site (and create these ebooks) by myself. Please help out by making a small payment donation of £1, or whatever you can, for this book. It only takes a minute and you don't need a PayPal account.
PDF
ePub
Kindle
Stripe(£GBP):
Summary:
Explores the elusive psychic element in mental illness and, more importantly, details the methods, motives, and physical apsects of psychic attack, and how to overcome this energy.
More books you might like:
Excerpt:
IF we look at the universe around us we cannot fail to realise that there must be some overruling plan co-ordinating its infinite complexity. If we take into our hands and examine minutely any living thing, however simple, equally must we realise that the ordered diversity of its parts is built up on a determining framework. Science has sought in vain for this organising principle; it will never find it on the physical plane, for it is not physical. It is not the inherent nature of atoms which causes them to arrange themselves in the complex patterns of living tissues. The driving forces of the universe, the framework upon which it is built up in all its parts, belong to another phase of manifestation than our physical plane, having other dimensions than the three to which we are habituated, and perceived by other modes of consciousness than those to which we are accustomed.

We live in the midst of invisible forces whose effects alone we perceive. We move among invisible forms whose actions we very often do not perceive at all, though we may be profoundly affected by them.

In this mind-side of nature, invisible to our senses, intangible to our instruments of precision, many things can happen that are not without their echo on the physical plane. There are beings that live in this invisible world as fish live in the sea. There are men and women with trained minds, or special aptitudes, who can enter into this invisible world as a diver descends to the ocean-bed. There are also times when, as happens to a land when the sea-dykes break, the invisible forces flow in upon us and swamp our lives. Normally this does not occur. We are protected by our very incapacity to perceive these invisible forces. There are four conditions, however, in which the veil may be rent and we may meet the Unseen. We may find ourselves in a place where these forces are concentrated. We may meet people who are handling these forces. We may ourselves go out to meet the Unseen, led by our interest in it, and get out of our depth before we know where we are; or we may fall victim to certain pathological conditions which rend the veil.

The Threshold of the Unseen is a treacherous coast on which to bathe. There are potholes and currents and quicksands. The strong swimmer, who knows ±he coast, may venture in comparative safety. The non-swimmer, who takes counsel of nothing but his own impulses, may pay for his temerity with his life. But we must not make the mistake of thinking that these invisible forces are necessarily evil and inimical to humanity. They are no more inimical in themselves than are water or fire, but they are potent. If we run counter to them, the result is disastrous for us, for we have broken a natural law; but they are not out to attack us, any more than we are out to attack them. We must face the fact, however, that men and women with knowledge of these things, have, both in the past and in the present, used that knowledge unscrupulously, and that we may find our selves involved in the results of their actions. It may safely be said that the Unseen is only evil and inimical to humanity when it has been corrupted and perverted by the activities of these unscrupulous men and women, whom initiates call adepts of the Left-hand Path.

We must consider the outward and visible signs of psychic attack before we are in a position to analyse the nature of such attacks and indicate their source of origin. It is a fundamental rule that diagnosis must precede treatment. There are many different kinds of psychic attacks, and the methods that will dispose of one will be ineffectual against another.

The commonest form of psychic attack is that which proceeds from the ignorant or malignant mind of our fellow human beings. We say ignorant as well as malignant, for all attacks are not deliberately motived; the injury may be as accidental as that inflicted by a skidding car. This must always be borne in mind, and we should not impute malice or wickedness as a matter of course when we feel we are being victimised. Our persecutor may himself be a victim. We should not accuse a man of malice if we had linked hands with him and he had stepped on a live rail. Nevertheless, we should receive at his hands a severe shock. So it may be with many an occult attack. The person from whom it emanates may not have originated it. Therefore we should never respond to attack by attack, thus bringing ourselves down to the moral level of our attackers, but rely upon more humane methods, which are, in reality, equally effectual and far less dangerous to handle.

People also come into touch with the Unseen through the influence of places. Someone who is not actually psychic, but who is sufficiently sensitive to perceive the invisible forces subconsciously, may go to a place where they are concentrated at a high tension. Normally, although we move in the midst of these forces (for they sustain our universe), we are oblivious of them. Where they are concentrated, however, unless we are very dense-minded, we begin to be dimly conscious of something that is affecting us and stirring our subliminal self.

It may happen that the barrier between consciousness and subconsciousness is dense in some people, and they are never able clearly to realise what is going on. They merely have the sense of oppression and general malaise, which lifts when they go away to another place. Consequently, the condition may never be detected, and lead to years of ill-health and misery.

More commonly, however, if there is a definite psychic attack of sufficient force to make itself noticeable at all, there will soon begin to appear characteristic dreams. These may include a sense of weight upon the chest, as if someone were kneeling on the sleeper. If the sense of weight is present, it is certain that the attack emanates locally, for the weight is due to the concentration of etheric substance or ectoplasm, and is sufficiently tangible to press down the scale of a balance when it is possible to capture it for measurement. A great deal of research has been done with materialising mediums upon the nature of this tangible subtle substance, and the reader is referred to the books on the experiments conducted by Crawford with the Goligher Circle at Belfast, and in Paris with Eva C. by other experimenters, for further information and evidence on this subject. It may be noted that Crawford eventually committed suicide for no known reason.
---
---
⇧ Back to top
---