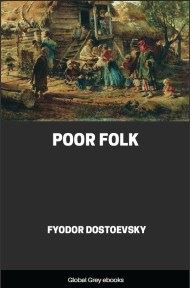 Poor Folk
Format: Global Grey free PDF, epub, Kindle ebook
Pages (PDF): 158
Publication Date: 1846
Download Links (below donate buttons):
Stripe:
---
PDF
ePub
Kindle
Summary:
Poor Folk is the first novel by Fyodor Dostoyevsky, written over the span of nine months between 1844 and 1845. Inspired by the works of Gogol, Pushkin, and Karamzin, as well as English and French authors, Poor Folk is written in the form of letters between the two main characters, Makar Devushkin and Varvara Dobroselova, who are poor second cousins. The novel showcases the life of poor people, their relationship with rich people, and poverty in general.
More free ebooks:
Excerpt:
MY DEAREST BARBARA ALEXIEVNA,—How happy I was last night—how immeasurably, how impossibly happy! That was because for once in your life you had relented so far as to obey my wishes. At about eight o'clock I awoke from sleep (you know, my beloved one, that I always like to sleep for a short hour after my work is done)—I awoke, I say, and, lighting a candle, prepared my paper to write, and trimmed my pen. Then suddenly, for some reason or another, I raised my eyes—and felt my very heart leap within me! For you had understood what I wanted, you had understood what my heart was craving for. Yes, I perceived that a corner of the curtain in your window had been looped up and fastened to the cornice as I had suggested should be done; and it seemed to me that your dear face was glimmering at the window, and that you were looking at me from out of the darkness of your room, and that you were thinking of me. Yet how vexed I felt that I could not distinguish your sweet face clearly! For there was a time when you and I could see one another without any difficulty at all. Ah me, but old age is not always a blessing, my beloved one! At this very moment everything is standing awry to my eyes, for a man needs only to work late overnight in his writing of something or other for, in the morning, his eyes to be red, and the tears to be gushing from them in a way that makes him ashamed to be seen before strangers. However, I was able to picture to myself your beaming smile, my angel—your kind, bright smile; and in my heart there lurked just such a feeling as on the occasion when I first kissed you, my little Barbara. Do you remember that, my darling? Yet somehow you seemed to be threatening me with your tiny finger. Was it so, little wanton? You must write and tell me about it in your next letter.

But what think you of the plan of the curtain, Barbara? It is a charming one, is it not? No matter whether I be at work, or about to retire to rest, or just awaking from sleep, it enables me to know that you are thinking of me, and remembering me—that you are both well and happy. Then when you lower the curtain, it means that it is time that I, Makar Alexievitch, should go to bed; and when again you raise the curtain, it means that you are saying to me, "Good morning," and asking me how I am, and whether I have slept well. "As for myself," adds the curtain, "I am altogether in good health and spirits, glory be to God!" Yes, my heart's delight, you see how easy a plan it was to devise, and how much writing it will save us! It is a clever plan, is it not? And it was my own invention, too! Am I not cunning in such matters, Barbara Alexievna?

Well, next let me tell you, dearest, that last night I slept better and more soundly than I had ever hoped to do, and that I am the more delighted at the fact in that, as you know, I had just settled into a new lodging—a circumstance only too apt to keep one from sleeping! This morning, too, I arose (joyous and full of love) at cockcrow. How good seemed everything at that hour, my darling! When I opened my window I could see the sun shining, and hear the birds singing, and smell the air laden with scents of spring. In short, all nature was awaking to life again. Everything was in consonance with my mood; everything seemed fair and spring-like. Moreover, I had a fancy that I should fare well today. But my whole thoughts were bent upon you. "Surely," thought I, "we mortals who dwell in pain and sorrow might with reason envy the birds of heaven which know not either!" And my other thoughts were similar to these. In short, I gave myself up to fantastic comparisons. A little book which I have says the same kind of thing in a variety of ways. For instance, it says that one may have many, many fancies, my Barbara—that as soon as the spring comes on, one's thoughts become uniformly pleasant and sportive and witty, for the reason that, at that season, the mind inclines readily to tenderness, and the world takes on a more roseate hue. From that little book of mine I have culled the following passage, and written it down for you to see. In particular does the author express a longing similar to my own, where he writes:

"Why am I not a bird free to seek its quest?"

And he has written much else, God bless him!

But tell me, my love—where did you go for your walk this morning? Even before I had started for the office you had taken flight from your room, and passed through the courtyard—yes, looking as vernal-like as a bird in spring. What rapture it gave me to see you! Ah, little Barbara, little Barbara, you must never give way to grief, for tears are of no avail, nor sorrow. I know this well—I know it of my own experience. So do you rest quietly until you have regained your health a little. But how is our good Thedora? What a kind heart she has! You write that she is now living with you, and that you are satisfied with what she does. True, you say that she is inclined to grumble, but do not mind that, Barbara. God bless her, for she is an excellent soul!

But what sort of an abode have I lighted upon, Barbara Alexievna? What sort of a tenement, do you think, is this? Formerly, as you know, I used to live in absolute stillness—so much so that if a fly took wing it could plainly be heard buzzing. Here, however, all is turmoil and shouting and clatter. The PLAN of the tenement you know already. Imagine a long corridor, quite dark, and by no means clean. To the right a dead wall, and to the left a row of doors stretching as far as the line of rooms extends.
---
---
⇧ Back to top
---