Book: The Night-Side of Nature; Or, Ghosts and Ghost-Seers
Author: Catherine Crowe
---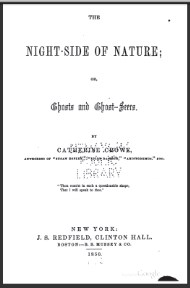 Format: Free Scanned PDF
Pages (PDF): 464
Publication Date: 1850
Download link is below the donate buttons
Donate with PayPal (using either a Paypal account or credit/debit card).
Donate via Donorbox using the secure payment gateway Stripe (with credit/debit card)
Donate
Summary:
This lively collection of ghostly sketches and anecdotes was a Victorian best-seller and Crowe's most popular work. Sixteen editions appeared in six years, and it was translated into several European languages. The stories are intertwined with Crowe's own interpretations and commentaries which attack the scepticism of enlightenment thought and orthodox religion. Crowe seeks instead to encourage and re-invigorate a sense of wonder and mystery in life by emphasising the supernatural. The stories centre on dreams, psychic presentiments, traces, wraiths, doppelgängers, apparitions, and imaginings of the after-life.
---
---
More books you might like: