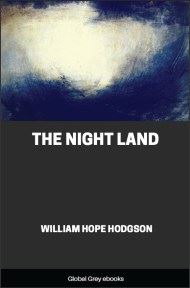 The Night Land
Format: Global Grey free PDF, epub, Kindle ebook
Pages (PDF): 449
Publication Date: 1912
Download Links:
I run this site on my own and spend a lot of time (and money) creating these ebooks. Please support the site by buying a collection; like the Fiction (Genre) one for only £15 or by making a small donation using the buttons below.
PDF
ePub
Kindle
Stripe(£GBP):
Summary:
Described by H. P. Lovecraft as 'one of the most potent pieces of macabre imagination ever written', The Night Lands tells the tale of a time, millions of years in the future, when the Sun has gone dark. The last few millions of the human race are gathered together in a gigantic metal pyramid, – the Last Redoubt, under siege from unknown forces.
More books you might like:
Excerpt:
It was the Joy of the Sunset that brought us to speech. I was gone a long way from my house, walking lonely-wise, and stopping often that I view the piling upward of the Battlements of Evening, and to feel the dear and strange gathering of the Dusk come over all the world about me.

The last time that I paused, I was truly lost in a solemn joy of the Glory of the Coming Night; and maybe I laughed a little in my throat, standing there alone in the midst of the Dusk upon the World. And, lo! my content was answered out of the trees that bounded the country road upon my right; and it was so as that some one had said: "And thou also!" in glad understanding, that I laughed again a little in my throat; as though I had only a half-believing that any true human did answer my laugh; but rather some sweet Delusion or Spirit that was tuned to my mood.

But she spoke and called me by my name; and when I had gone to the side of the road, that I should see her somewhat, and discover whether I knew her, I saw that she was surely that lady, who for her beauty was known through all of that sweet County of Kent as Lady Mirdath the Beautiful; and a near neighbour to me; for the Estates of her Guardian abounded upon mine.

Yet, until that time, I had never met her; for I had been so oft and long abroad; and so much given to my Studies and my Exercises when at home, that I had no further Knowledge of her than Rumour gave to me odd time; and for the rest, I was well content; for as I have given hint, my books held me, and likewise my Exercises; for I was always an athlete, and never met the man so quick or so strong as I did be; save in some fiction of a tale or in the mouth of a boaster. Now, I stood instantly with my hat in my hand; and answered her gentle bantering so well as I might, the while that I peered intent and wondering at her through the gloom; for truly Rumour had told no tale to equal the beauty of this strange maid; who now stood jesting with so sweet a spirit, and claiming kinship of Cousinhood with me, as was truth, now that I did wake to think.

And, truly, she made no ado; but named me frank by my lad's name, and gave laughter and right to me to name her Mirdath, and nothing less or more—at that time. And she bid me then to come up through the hedge, and make use of a gap that was her own especial secret, as she confessed, when she took odd leave with her maid to some country frolic, drest as village maids; but not to deceive many, as I dare believe.

And I came up through the gap in the hedge and stood beside her; and tall she had seemed to me, when I looked up at her; and tall she was, in truth; but indeed I was a great head taller. And she invited me then to walk with her to the house, that I meet her Guardian and give word to my sorrow that I had so long neglected to make call upon them; and truly her eyes to shine with mischief and delight, as she named me so for my amissness.

But, indeed, she grew sober in a moment, and she set up her finger to me to hush, as that she heard somewhat in the wood that lay all the way upon our right. And, indeed, something I heard too; for there was surely a rustling of the leaves, and anon a dead twig crackt with a sound clear and sharp in the stillness. And immediately there came three men running out of the wood at me; and I called to them sharply to keep off or beware of harm; and I put the maid to my back with my left hand, and had my oak staff ready for my use.

But the three men gave out no word of reply; but ran in at me; and I saw somewhat of the gleam of knives; and at that, I moved very glad and brisk to the attack; and behind me there went shrill and sweet, the call of a silver whistle; for the Maid was whistling for her dogs; and maybe the call was also a signal to the men-servants of her house.

Yet, truly, there was no use in help that was yet to come; for the need did be then and instant; and I nowise loath to use my strength before my sweet cousin. And I stepped forward, briskly, as I have told; and the end of my staff I drove into the body of the left-ward man, so that he dropped like a dead man. And I hit very sharply at the head of another, and surely crackt it for him; for he made instantly upon the earth; but the third man I met with my fist, and neither had he any great need of a second blow; but went instant to join his companions, and the fight thus to have ended before it was even proper begun, and I laughing a little with a proper pride, to know the bewilderment that I perceived in the way that the Lady Mirdath, my cousin, stood and regarded me through the dusk of the hushed even.
---
---
⇧ Back to top
---