The Mystery of a Hansom Cab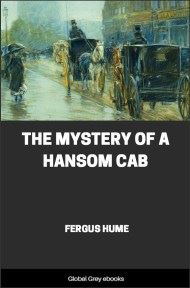 Format: Global Grey edition
Pages (PDF): 267
Publication Date: 1886
Illustrations: No
Available formats: PDF, epub, Kindle ebook
(Download links are just below the donate button)
Book Description:
The Mystery of a Hansom Cab is a mystery fiction novel by Australian writer Fergus Hume. The book takes place in Melbourne, Australia and involves an investigation into a homicide, after a corpse is discovered in the evening, in a hansom cab. Vintage Mystery and Detective Stories characterized the book as "the best-selling detective novel of the nineteenth century".
---
Reason to donate No 1: For every £1 donated, I will give one of my cats (chosen at random) a hug. Also, you are able to download this book (and all the others) without having to give me your email address. That has got to be worth something, right?
Donate with PayPal
Donate with your credit/debit card
Support the site using your PayPal account – or pay with your credit/debit card as a guest (no PayPal account needed).


Support the site using your credit/debit card via Donorbox, using the secure payment gateway, Stripe. (Donation box will open here in pop-up – no taking you away from the site).
---