---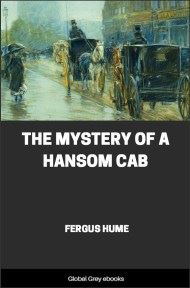 Format: Global Grey free PDF, epub, Kindle ebook
Pages (PDF): 267
Publication Date: 1886
Download links are below the donate buttons
Donate with PayPal (using either a Paypal account or credit/debit card).
Donate via Donorbox using the secure payment gateway Stripe (with credit/debit card)
Donate
Summary:
The Mystery of a Hansom Cab is a mystery fiction novel by Australian writer Fergus Hume. The book takes place in Melbourne, Australia and involves an investigation into a homicide, after a corpse is discovered in the evening, in a hansom cab. Vintage Mystery and Detective Stories characterized the book as "the best-selling detective novel of the nineteenth century".
---
---
More books you might like:
Excerpt:
The following report appeared in the Argus newspaper of Saturday, the 28th July, 18 —

"Truth is said to be stranger than fiction, and certainly the extraordinary murder which took place in Melbourne on Thursday night, or rather Friday morning, goes a long way towards verifying this saying. A crime has been committed by an unknown assassin, within a short distance of the principal streets of this great city, and is surrounded by an inpenetrable mystery. Indeed, from the nature of the crime itself, the place where it was committed, and the fact that the assassin has escaped without leaving a trace behind him, it would seem as though the case itself had been taken bodily from one of Gaboreau's novels, and that his famous detective Lecoq alone would be able to unravel it. The facts of the case are simply these:—

"On the twenty-seventh day of July, at the hour of twenty minutes to two o'clock in the morning, a hansom cab drove up to the police station in Grey Street, St. Kilda, and the driver made the startling statement that his cab contained the body of a man who he had reason to believe had been murdered. "Being taken into the presence of the inspector, the cabman, who gave his name as Malcolm Royston, related the following strange story:—

"At the hour of one o'clock in the morning, he was driving down Collins Street East, when, as he was passing the Burke and Wills' monument, he was hailed by a gentleman standing at the corner by the Scotch Church. He immediately drove up, and saw that the gentleman who hailed him was supporting the deceased, who appeared to be intoxicated. Both were in evening dress, but the deceased had on no overcoat, while the other wore a short covert coat of a light fawn colour, which was open. As Royston drove up, the gentleman in the light coat said, 'Look here, cabby, here's some fellow awfully tight, you'd better take him home!'

"Royston then asked him if the drunken man was his friend, but this the other denied, saying that he had just picked him up from the footpath, and did not know him from Adam. At this moment the deceased turned his face up to the light of the lamp under which both were standing, and the other seemed to recognise him, for he recoiled a pace, letting the drunken man fall in a heap on the pavement, and gasping out 'You?' he turned on his heel, and walked rapidly away down Russell Street in the direction of Bourke Street.

"Royston was staring after him, and wondering at his, strange conduct, when he was recalled to himself by the voice of the deceased, who had struggled to his feet, and was holding on to the lamp-post, swaying to and fro. 'I wan' g'ome,' he said in a thick voice, 'St. Kilda.' He then tried to get into the cab, but was too drunk to do so, and finally sat down again on the pavement. Seeing this, Royston got down, and lifting him up, helped him into the cab with some considerable difficulty. The deceased fell back into the cab, and seemed to drop off to sleep; so, after closing the door, Royston turned to remount his driving-seat, when he found the gentleman in the light coat whom he had seen holding up the deceased, close to his elbow. Royston said, 'Oh, you've come back,' and the other answered, 'Yes, I've changed my mind, and will see him home.' As he said this he opened the door of the cab, stepped in beside the deceased, and told Royston to drive down to St. Kilda. Royston, who was glad that the friend of the deceased had come to look after him, drove as he had been directed, but near the Church of England Grammar School, on the St. Kilda Road, the gentleman in the light coat called out to him to stop. He did so, and the gentleman got out of the cab, closing the door after him.

"'He won't let me take him home,' he said, 'so I'll just walk back to the city, and you can drive him to St. Kilda.'

"'What street, sir?' asked Royston.

"'Grey Street, I fancy,' said the other, 'but my friend will direct you when you get to the Junction.' "'Ain't he too much on, sir?' said Royston, dubiously.

"'Oh, no! I think he'll be able to tell you where he lives — it's Grey Street or Ackland Street, I fancy. I don't know which.'

"He then opened the door of the cab and looked in. 'Good night, old man,' he said — the other apparently did not answer, for the gentleman in the light coat, shrugging his shoulders, and muttering 'sulky brute,' closed the door again. He then gave Royston half-a-sovereign, lit a cigarette, and after making a few remarks about the beauty of the night, walked off quickly in the direction of Melbourne. Royston drove down to the Junction, and having stopped there, according to his instructions he asked his 'fare' several times where he was to drive him to. Receiving no response and thinking that the deceased was too drunk to answer, he got down from his seat, opened the door of the cab, and found the deceased lying back in the corner with a handkerchief across his mouth. He put out his hand with the intention of rousing him, thinking that he had gone to sleep. But on touching him the deceased fell forward, and on examination, to his horror, he found that he was quite dead. Alarmed at what had taken place, and suspecting the gentleman in the light coat, he drove to the police station at St. Kilda, and there made the above report. The body of the deceased was taken out of the cab and brought into the station, a doctor being sent for at once. On his arrival, however, he found that life was quite extinct, and also discovered that the handkerchief which was tied lightly over the mouth was saturated with chloroform. He had no hesitation in stating that from the way in which the handkerchief was placed, and the presence of chloroform, that a murder had been committed, and from all appearances the deceased died easily, and without a struggle. The deceased is a slender man, of medium height, with a dark complexion, and is dressed in evening dress, which will render identification difficult, as it is a costume which has no distinctive mark to render it noticeable. There were no papers or cards found on the deceased from which his name could be discovered, and the clothing was not marked in any way. The handkerchief, however, which was tied across his mouth, was of white silk, and marked in one of the corners with the letters 'O.W.' in red silk. The assassin, of course, may have used his own handkerchief to commit the crime, so that if the initials are those of his name they may ultimately lead to his detection. There will be an inquest held on the body of the deceased this morning, when, no doubt, some evidence may be elicited which may solve the mystery."