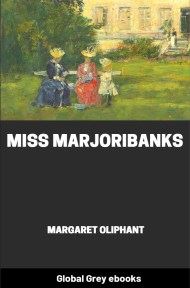 Miss Marjoribanks
Format: Global Grey free PDF, epub, Kindle ebook, or read online
Pages (PDF): 500
Publication Date: 1866
Download Links:
I run this site (and create these ebooks) by myself. Please help out by making a small payment donation of £1, or whatever you can, for this book. It only takes a minute and you don't need a PayPal account.
PDF
ePub
Kindle
Online
Stripe(£GBP):
Summary:
Miss Marjoribanks follows the exploits of Lucilla Marjoribanks, as she schemes to improve the social and romantic lives of the people in the provincial English town of Carlingford.
More books you might like:
Excerpt:
Miss Marjoribanks lost her mother when she was only fifteen, and when, to add to the misfortune, she was absent at school, and could not have it in her power to soothe her dear mamma's last moments, as she herself said. Words are sometimes very poor exponents of such an event: but it happens now and then, on the other hand, that a plain intimation expresses too much, and suggests emotion and suffering which, in reality, have but little, if any, existence. Mrs Marjoribanks, poor lady, had been an invalid for many years; she had grown a little peevish in her loneliness, not feeling herself of much account in this world. There are some rare natures that are content to acquiesce in the general neglect, and forget themselves when they find themselves forgotten; but it is unfortunately much more usual to take the plan adopted by Mrs Marjoribanks, who devoted all her powers, during the last ten years of her life, to the solacement and care of that poor self which other people neglected.

The consequence was, that when she disappeared from her sofa—except for the mere physical fact that she was no longer there—no one, except her maid, whose occupation was gone, could have found out much difference. Her husband, it is true, who had, somewhere, hidden deep in some secret corner of his physical organisation, the remains of a heart, experienced a certain sentiment of sadness when he re-entered the house from which she had gone away for ever. But Dr Marjoribanks was too busy a man to waste his feelings on a mere sentiment. His daughter, however, was only fifteen, and had floods of tears at her command, as was natural at that age. All the way home she revolved the situation in her mind, which was considerably enlightened by novels and popular philosophy—for the lady at the head of Miss Marjoribanks school was a devoted admirer of Friends in Council, and was fond of bestowing that work as a prize, with pencil-marks on the margin—so that Lucilla's mind had been cultivated, and was brimful of the best of sentiments. She made up her mind on her journey to a great many virtuous resolutions; for, in such a case as hers, it was evidently the duty of an only child to devote herself to her father's comfort, and become the sunshine of his life, as so many young persons of her age have been known to become in literature. Miss Marjoribanks had a lively mind, and was capable of grasping all the circumstances of the situation at a glance. Thus, between the outbreaks of her tears for her mother, it became apparent to her that she must sacrifice her own feelings, and make a cheerful home for papa, and that a great many changes would be necessary in the household—changes which went so far as even to extend to the furniture. Miss Marjoribanks sketched to herself, as she lay back in the corner of the railway carriage, with her veil down, how she would wind herself up to the duty of presiding at her papa's dinner-parties, and charming everybody by her good humour, and brightness, and devotion to his comfort; and how, when it was all over, she would withdraw and cry her eyes out in her own room, and be found in the morning languid and worn-out, but always heroical, ready to go downstairs and assist at dear papa's breakfast, and keep up her smiles for him till he had gone out to his patients.

Altogether the picture was a very pretty one; and, considering that a great many young ladies in deep mourning put force upon their feelings in novels, and maintain a smile for the benefit of the unobservant male creatures of whom they have the charge, the idea was not at all extravagant, considering that Miss Marjoribanks was but fifteen. She was not, however, exactly the kind of figure for this mise en scène. When her schoolfellows talked of her to their friends—for Lucilla was already an important personage at Mount Pleasant—the most common description they gave her was, that she was "a large girl"; and there was great truth in the adjective. She was not to be described as a tall girl—which conveys an altogether different idea—but she was large in all particulars, full and well-developed, with somewhat large features, not at all pretty as yet, though it was known in Mount Pleasant that somebody had said that such a face might ripen into beauty, and become "grandiose," for anything anybody could tell. Miss Marjoribanks was not vain; but the word had taken possession of her imagination, as was natural, and solaced her much when she made the painful discovery that her gloves were half a number larger, and her shoes a hair-breadth broader, than those of any of her companions; but the hands and feet were both perfectly well shaped; and being at the same time well clothed and plump, were much more presentable and pleasant to look upon than the lean rudimentary schoolgirl hands with which they were surrounded. To add to these excellences, Lucilla had a mass of hair which, if it could but have been cleared a little in its tint, would have been golden, though at present it was nothing more than tawny, and curly to exasperation. She wore it in large thick curls, which did not, however, float or wave, or do any of the graceful things which curls ought to do; for it had this aggravating quality, that it would not grow long, but would grow ridiculously, unmanageably thick, to the admiration of her companions, but to her own despair, for there was no knowing what to do with those short but ponderous locks. These were the external characteristics of the girl who was going home to be a comfort to her widowed father, and meant to sacrifice herself to his happiness.
---
---
⇧ Back to top
---