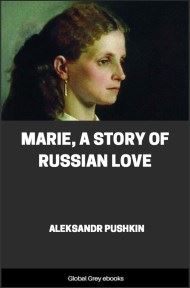 Marie, A Story of Russian Love
Aleksandr Pushkin
Format: Global Grey free PDF, epub, Kindle ebook
Pages (PDF): 90
Publication Date: This translation by Marie H. de Zielinska, 1876
Download Links:
I run this site (and create these ebooks) by myself. Please help out by making a small payment donation of £1, or whatever you can, for this book. It only takes a minute and you don't need a PayPal account.
PDF
ePub
Kindle
Stripe(£GBP):
Summary:
Written soon after the author was married, Marie tells the story of life and love on the Russian plains. Presented as a memoir by Peter, the story follows his sometimes harrowing quest to become husband to Marie Martinoff.
More books you might like:
Excerpt:
My father, Andrew Peter Grineff, having served in his youth under Count Munich, left the army in 17 — with the grade of First Major. From that time he lived on his estate in the Principality of Simbirsk, where he married Avoditia, daughter of a poor noble in the neighborhood. Of nine children, the issue of this marriage, I was the only survivor. My brothers and sisters died in childhood.

Through the favor of a near relative of ours, Prince B— — himself a Major in the Guards, I was enrolled Sergeant of the Guards in the regiment of Semenofski. It was understood that I was on furlough till my education should be finished. From my fifth year I was confided to the care of an old servant Saveliitch, whose steadiness promoted him to the rank of my personal attendant. Thanks to his care, when I was twelve years of age I knew how to read and write, and could make a correct estimate of the points of a hunting dog.

At this time, to complete my education, my father engaged upon a salary a Frenchman, M. Beaupre, who was brought from Moscow with one year's provision of wine and oil from Provence. His arrival of course displeased Saveliitch.

Beaupre had been in his own country a valet, in Prussia a soldier, then he came to Russia to be a tutor, not knowing very well what the word meant in our language. He was a good fellow, astonishingly gay and absent-minded. His chief foible was a passion for the fair sex. Nor was he, to use his own expression, an enemy to the bottle — that is to say, a la Russe, he loved drink. But as at home wine was offered only at table, and then in small glasses, and as, moreover, on these occasions, the servants passed by the pedagogue, Beaupre soon accustomed himself to Russian brandy, and, in time, preferred it, as a better tonic, to the wines of his native country. We became great friends, and although according to contract he was engaged to teach me French, German, and all the sciences, yet he was content that I should teach him to chatter Russian. But as each of us minded his own business, our friendship was constant, and I desired no mentor. However, destiny very soon separated us, in consequence of an event which I will relate.

Our laundress, a fat girl all scarred by small-pox, and our dairymaid, who was blind of an eye, agreed, one fine day, to throw themselves at my mother's feet and accuse the Frenchman of trifling with their innocence and inexperience!

My mother would have no jesting upon this point, and she in turn complained to my father, who, like a man of business, promptly ordered "that dog of a Frenchman" into his presence. The servant informed him meekly that Beaupre was at the moment engaged in giving me a lesson.

My father rushed to my room. Beaupre was sleeping upon his bed the sleep of innocence. I was deep in a most interesting occupation. They had brought from Moscow, for me, a geographical map, which hung unused against the wall; the width and strength of its paper had been to me a standing temptation. I had determined to make a kite of it, and profiting that morning by Beaupre's sleep, I had set to work. My father came in just as I was tying a tail to the Cape of Good Hope! Seeing my work, he seized me by the ear and shook me soundly; then rushing to Beaupre's bed, awakened him without hesitating, pouring forth a volley of abuse upon the head of the unfortunate Frenchman. In his confusion Beaupre tried in vain to rise; the poor pedagogue was dead drunk! My father caught him by the coat-collar and flung him out of the room. That day he was dismissed, to the inexpressible delight of Saveliitch.

Thus ended my education. I now lived in the family as the eldest son, not of age whose career is yet to open; amusing myself teaching pigeons to tumble on the roof, and playing leap-frog in the stable-yard with the grooms. In this way I reached my sixteenth year.

One Autumn day, my mother was preserving fruit with honey in the family room, and I, smacking my lips, was looking at the liquid boiling; my father, seated near the window, had just opened the Court Almanac which he received every year. This book had great influence over him; he read it with extreme attention, and reading prodigiously stirred up his bile. My mother, knowing by heart all his ways and oddities, used to try to hide the miserable book, and often whole months would pass without a sight of it. But, in revenge whenever he did happen to find it, he would sit for hours with the book before his eyes.

Well, my father was reading the Court Almanac, frequently shrugging his shoulders, and murmuring: "'General!' Umph, he was a sergeant in my company. 'Knight of the Orders of Russia.' Can it be so long since we —?"

Finally he flung the Almanac away on the sofa and plunged into deep thought; a proceeding that never presaged anything good.

"Avoditia," said he, brusquely, to my mother, "how old is Peter?"

"His seventeenth precious year has just begun," said my mother. "Peter was born the year Aunt Anastasia lost her eye, and that was —"

"Well, well," said my father, "it is time he should join the army. It is high time he should give up his nurse, leap-frog and pigeon training."

The thought of a separation so affected my poor mother that she let the spoon fall into the preserving pan, and tears rained from her eyes.

As for me, it is difficult to express my joy. The idea of army service was mingled in my head with that of liberty, and the pleasures offered by a great city like Saint Petersburg.

I saw myself an officer in the Guards, which, in my opinion was the height of felicity.
---
---
⇧ Back to top
---