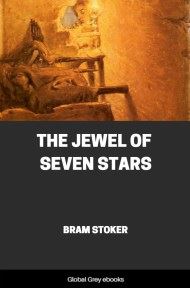 The Jewel of Seven Stars
Format: Global Grey free PDF, epub, Kindle ebook
Pages (PDF): 229
Publication Date: 1903
Download Links:
I run this site on my own and spend a lot of time (and money) creating these ebooks. Please support the site by buying a collection; like the Fiction (Genre) one for only £15 or by making a small donation using the buttons below.
PDF
ePub
Kindle
Stripe(£GBP):
Summary:
A mysterious attack on Margaret Trelawney's father brings young lawyer Malcolm Ross into the Egyptologist's bizarre home, and the couple soon find they are battling ancient forces greater than they previously could have imagined. The Egyptian queen Tera has been awoken, and is coming to take what she believes to be hers – whatever the cost to the Trelawney family. Set in London and Cornwall, and written at a time when a fascination with the East pervaded Victorian England, The Jewel of Seven Stars reflected the perceived contrast between the Orient's savagery and moral degradation, and its exotic beauty and opulence.
More books you might like:
Excerpt:
It all seemed so real that I could hardly imagine that it had ever occurred before; and yet each episode came, not as a fresh step in the logic of things, but as something expected. It is in such a wise that memory plays its pranks for good or ill; for pleasure or pain; for weal or woe. It is thus that life is bittersweet, and that which has been done becomes eternal.

Again, the light skiff, ceasing to shoot through the lazy water as when the oars flashed and dripped, glided out of the fierce July sunlight into the cool shade of the great drooping willow branches—I standing up in the swaying boat, she sitting still and with deft fingers guarding herself from stray twigs or the freedom of the resilience of moving boughs. Again, the water looked golden-brown under the canopy of translucent green; and the grassy bank was of emerald hue. Again, we sat in the cool shade, with the myriad noises of nature both without and within our bower merging into that drowsy hum in whose sufficing environment the great world with its disturbing trouble, and its more disturbing joys, can be effectually forgotten. Again, in that blissful solitude the young girl lost the convention of her prim, narrow upbringing, and told me in a natural, dreamy way of the loneliness of her new life. With an undertone of sadness she made me feel how in that spacious home each one of the household was isolated by the personal magnificence of her father and herself; that there confidence had no altar, and sympathy no shrine; and that there even her father's face was as distant as the old country life seemed now. Once more, the wisdom of my manhood and the experience of my years laid themselves at the girl's feet. It was seemingly their own doing; for the individual "I" had no say in the matter, but only just obeyed imperative orders. And once again the flying seconds multiplied themselves endlessly. For it is in the arcana of dreams that existences merge and renew themselves, change and yet keep the same—like the soul of a musician in a fugue. And so memory swooned, again and again, in sleep.

It seems that there is never to be any perfect rest. Even in Eden the snake rears its head among the laden boughs of the Tree of Knowledge. The silence of the dreamless night is broken by the roar of the avalanche; the hissing of sudden floods; the clanging of the engine bell marking its sweep through a sleeping American town; the clanking of distant paddles over the sea.... Whatever it is, it is breaking the charm of my Eden. The canopy of greenery above us, starred with diamond-points of light, seems to quiver in the ceaseless beat of paddles; and the restless bell seems as though it would never cease....

All at once the gates of Sleep were thrown wide open, and my waking ears took in the cause of the disturbing sounds. Waking existence is prosaic enough—there was somebody knocking and ringing at someone's street door.

I was pretty well accustomed in my Jermyn Street chambers to passing sounds; usually I did not concern myself, sleeping or waking, with the doings, however noisy, of my neighbours. But this noise was too continuous, too insistent, too imperative to be ignored. There was some active intelligence behind that ceaseless sound; and some stress or need behind the intelligence. I was not altogether selfish, and at the thought of someone's need I was, without premeditation, out of bed. Instinctively I looked at my watch. It was just three o'clock; there was a faint edging of grey round the green blind which darkened my room. It was evident that the knocking and ringing were at the door of our own house; and it was evident, too, that there was no one awake to answer the call. I slipped on my dressing-gown and slippers, and went down to the hall door. When I opened it there stood a dapper groom, with one hand pressed unflinchingly on the electric bell whilst with the other he raised a ceaseless clangour with the knocker. The instant he saw me the noise ceased; one hand went up instinctively to the brim of his hat, and the other produced a letter from his pocket. A neat brougham was opposite the door, the horses were breathing heavily as though they had come fast. A policeman, with his night lantern still alight at his belt, stood by, attracted to the spot by the noise.

"Beg pardon, sir, I'm sorry for disturbing you, but my orders was imperative; I was not to lose a moment, but to knock and ring till someone came. May I ask you, sir, if Mr. Malcolm Ross lives here?"

"I am Mr. Malcolm Ross."

"Then this letter is for you, sir, and the bro'am is for you too, sir!"

I took, with a strange curiosity, the letter which he handed to me. As a barrister I had had, of course, odd experiences now and then, including sudden demands upon my time; but never anything like this. I stepped back into the hall, closing the door to, but leaving it ajar; then I switched on the electric light. The letter was directed in a strange hand, a woman's. It began at once without "dear sir" or any such address:

"You said you would like to help me if I needed it; and I believe you meant what you said. The time has come sooner than I expected. I am in dreadful trouble, and do not know where to turn, or to whom to apply. An attempt has, I fear, been made to murder my Father; though, thank God, he still lives. But he is quite unconscious. The doctors and police have been sent for; but there is no one here whom I can depend on. Come at once if you are able to; and forgive me if you can. I suppose I shall realise later what I have done in asking such a favour; but at present I cannot think. Come! Come at once! MARGARET TRELAWNY."
---
---
⇧ Back to top
---