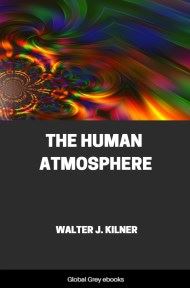 The Human Atmosphere
Walter J. Kilner
Format: Global Grey free PDF, epub, Kindle ebook
Pages (PDF): 267
Publication Date: 1920
Download Links (below donate buttons):
Stripe:
---
PDF
ePub
Kindle
Summary:
With 67 diagrams. Walter Kilner was the first to use the term 'human aura' in a medical context. Using specially developed filters, he believed that he could view a luminous field surrounding any human being. In this text, he describes dozens of case studies where he used the color and shape of the aura to perform medical diagnosis. Today the human aura is still considered speculative, in spite of the striking images produced by techniques such as Kirilian photography.Acupuncture is based on a map of internal channels of energy in the body, unknown to western science. So it is not so far fetched that there might be some kind of unknown energy field which encompasses the human body, and if so, it might be used for medical purposes.
More free ebooks:
Excerpt:
HARDLY one person in ten thousand is aware that he or she is enveloped by a haze intimately connected with the body, whether asleep or awake, whether hot or cold, which, although invisible under ordinary circumstances, can be seen when conditions are favourable. This mist, the prototype of the nimbus or halo constantly depicted around saints, has been manifest to certain individuals possessing a specially gifted sight, who in consequence have received the title of "Clairvoyants," and until quite recently to no one else. This cloud or atmosphere, generally termed the AURA, is the subject of this treatise, in so far as it can be perceived by the employment of screens containing a peculiar chemical substance in solution. It may be stated at once that the writer does not make the slightest claim to clairvoyancy; nor is he an occultist; and he specially desires to impress upon his readers that his researches have been entirely physical, and can be repeated by any one who takes sufficient interest in the subject.

As long as the faculty of seeing the aura was confined to a few individuals, and ordinary persons had no means of corroboration or refutation, the door to imposture was open. Since this has been the case up to the present time, the subject has always been looked on askance; but there is no more charlatanism in the detection of the human aura by the means employed than in distinguishing microbes by the aid of the microscope. The chief difference lies in the claim of some people that they are able to perceive the one through the possession of extra-normal eyesight, while no one has yet had the hardihood to assert that they have the power of seeing an object one-thousandth of a millemetre in length without instrumental aid. There cannot be the least doubt of the reality of the existence of an aura enveloping a human being, and this will in a short time be an universally accepted fact, now that it can be made visible to nearly every person having ordinary eyesight.

It, indeed, would be strange if the aura did not vary under different circumstances, and there is good reason to believe that a study of its modifications will show that they have a diagnostic value in disease.

The writer asks the indulgence of his readers while he makes a few personal remarks. He has endeavoured to be as far as possible impartial and accurate in recording all observations and to avoid pitfalls and faults having their origin in uncontrolled enthusiasm and imagination. This, in one part of the subject is very difficult, as so much depends upon subjective vision. It is only fair to add that his sight is his most perfect sense; and consequently he may be able to distinguish by its aid a little more than the average man, and may thus have perceived effects which escape the notice of other observers. Some of the deductions he has made may be thought, and perhaps rightly, too dogmatic, since they are founded upon such a small number of cases; but the excuse advanced is, that they have been brought forward solely with the intention of providing working hypotheses to assist in future investigations.

The discovery of a screen making the aura visible was by no means accidental. After reading about the action of the N rays upon phosphorescent sulphide of calcium, the writer was for a long time experimenting upon mechanical forces of certain bodily emanations, and had come to the conclusion, whether rightly or wrongly, that he had detected two forces besides heat that could act upon his needles, and that these forces were situated in the infra-red portion of the spectrum. There was a hitch in his experiments; and in the early part of 1908, he thought certain dyes might help him. After considering their different spectra and, as far as he could, ascertaining their properties, he made a trial of several, and fixed upon the coal tar dye "Dicyanin," as the most likely to be useful. While waiting for this chemical, a thought flashed across his mind that the substance might make some portion of the effects of the above forces visible; and should this be the case, he expected to see the human aura. He had heard about that phenomenon, but until that moment never had any intention of investigating it, as he believed it to be far beyond his natural powers.

As soon as the dye had been obtained, glass screens coated with collodion or gelatine and stained with it, were made, but were found entirely useless as decomposition took place almost instantaneously. Several other methods were tried with varying success, but the only one which gave really satisfactory results was glass cells filled with an alcoholic solution of dicyanin. Even these after a time change their colour from chemical decomposition, and should be kept in the dark when not in use. Two of these screens are needed for ordinary work, one being dark and the other light, but as will be mentioned later on, other screens quite different will be required for special purposes. Immediately a screen was finished, the writer looked at a friend through it, and instantly saw round his head and hands a faint mist greyish in colour, which he concluded could be nothing else than the human aura. In the course of his early experiments, it was not long before he noticed that he could for a few minutes see the haze without the intervention of a screen. This power only lasted a short time, but was found to be renewed by looking through a dark screen at the light, which, it is interesting to note, is the general rule. A minority of persons who are not able to see the aura, or only to a slight extent after gazing through the dark dicyanin screen at the light, will find that they can detect it more easily and distinctly if they examine it through the light dicyanin screen. Herein lies the main use of the second screen.
---
---
⇧ Back to top
---