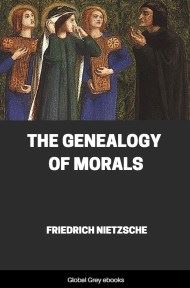 The Genealogy of Morals
Format: Global Grey free PDF, epub, Kindle ebook
Pages (PDF): 135
Publication Date: This translation by Horace B. Samuel, 1913
Download Links:
I run this site (and create these ebooks) by myself. Please help out by making a small payment donation of £1, or whatever you can, for this book. It only takes a minute and you don't need a PayPal account.
PDF
ePub
Kindle
Stripe(£GBP):
Summary:
Contains a Preface and three interrelated essays that expand on the concepts he laid out in Beyond Good and Evil. The essays are: First Treatise: "'Good and Evil', 'Good and Bad'"; Second Treatise: "'Guilt', 'Bad Conscience', and Related Matters"; Third Treatise: "What do ascetic ideals mean?".
More books you might like:
Excerpt:
We are unknown, we knowers, ourselves to ourselves: this has its own good reason. We have never searched for ourselves—how should it then come to pass, that we should ever find ourselves? Rightly has it been said: "Where your treasure is, there will your heart be also." Our treasure is there, where stand the hives of our knowledge. It is to those hives that we are always striving; as born creatures of flight, and as the honey-gatherers of the spirit, we care really in our hearts only for one thing—to bring something "home to the hive!"
As far as the rest of life with its so-called "experiences" is concerned, which of us has even sufficient serious interest? or sufficient time? In our dealings with such points of life, we are, I fear, never properly to the point; to be precise, our heart is not there, and certainly not our ear. Rather like one who, delighting in a divine distraction, or sunken in the seas of his own soul, in whose ear the clock has just thundered with all its force its twelve strokes of noon, suddenly wakes up, and asks himself, "What has in point of fact just struck?" so do we at times rub afterwards, as it were, our puzzled ears, and ask in complete astonishment and complete embarrassment, "Through what have we in point of fact just lived?" further, "Who are we in point of fact?" and count, after they have struck, as I have explained, all the twelve throbbing beats of the clock of our experience, of our life, of our being—ah!—and count wrong in the endeavour. Of necessity we remain strangers to ourselves, we understand ourselves not, in ourselves we are bound to be mistaken, for of us holds good to all eternity the motto, "Each one is the farthest away from himself"—as far as ourselves are concerned we are not "knowers."
My thoughts concerning the genealogy of our moral prejudices—for they constitute the issue in this polemic—have their first, bald, and provisional expression in that collection of aphorisms entitled Human, all-too-Human, a Book for Free Minds, the writing of which was begun in Sorrento, during a winter which allowed me to gaze over the broad and dangerous territory through which my mind had up to that time wandered. This took place in the winter of 1876-77; the thoughts themselves are older. They were in their substance already the same thoughts which I take up again in the following treatises:—we hope that they have derived benefit from the long interval, that they have grown riper, clearer, stronger, more complete. The fact, however, that I still cling to them even now, that in the meanwhile they have always held faster by each other, have, in fact, grown out of their original shape and into each other, all this strengthens in my mind the joyous confidence that they must have been originally neither separate disconnected capricious nor sporadic phenomena, but have sprung from a common root, from a fundamental "fiat" of knowledge, whose empire reached to the soul's depth, and that ever grew more definite in its voice, and more definite in its demands. That is the only state of affairs that is proper in the case of a philosopher.
We have no right to be "disconnected"; we must neither err "disconnectedly" nor strike the truth "disconnectedly." Rather with the necessity with which a tree bears its fruit, so do our thoughts, our values, our Yes's and No's and If's and Whether's, grow connected and interrelated, mutual witnesses of one will, one health, one kingdom, one sun—as to whether they are to your taste, these fruits of ours?—But what matters that to the trees? What matters that to us, us the philosophers?
---
---
⇧ Back to top
---